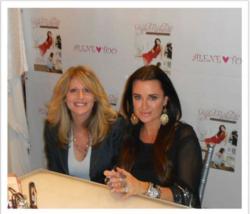 West Palm Beach, FL (PRWEB) October 03, 2012
Jill Duggan is not leaving Palm Beach Woman magazine completely, she believes she is taking the concept of the magazine with her to her next project which is a television series about celebrity businesswomen and everyday working women that connect together in exciting and rewarding ways.
The show, titled, America's Next Businesswoman is about mentoring and rewarding businesswomen. "Palm Beach Woman magazine reinforced what I already knew as a businesswoman-- women appreciate recognition and never stop striving for achievement. Seems like once we set a goal and achieve it, we automatically go on to the next one and I'm doing just that by developing this TV concept. Women spend thousands of dollars and hundreds of hours a year attending businesswomen's seminars and reading businesswomen's magazines like PALM BEACH Woman. They do this to become well-informed and to network as a community of like-minded women. While these resources provide content, they are missing the greatest resource businesswomen need and our new show concept has the solution. We will give thousands of women the chance of a lifetime to audition and be cast in a docu-series about women in business; it can take their career to a level they never could have done by just reading a magazine or going to a seminar," Duggan continued to say.
As the show is in early stages of development, Jill Duggan returned to corporate America as Director of Marketing for BABOR Cosmetics North America, a luxury skincare line found at the finest resorts, day spas and cosmetics boutiques around the world. "Accepting the position with BABOR was a natural for me not just because of my years of experience in consumers products marketing but for my passion to keep women looking their best and achieving their best, "Duggan said.
Jill Duggan is available for interviews and speaking engagements. For more information about Jill Duggan, America's Next Businesswoman television show, PALM BEACH Woman magazine or BABOR Cosmetics, contact:
Jill Duggan
jill(at)palmbeachventure(dot)com
561.308.5454
http://www.palmbeachventure.com
# # #