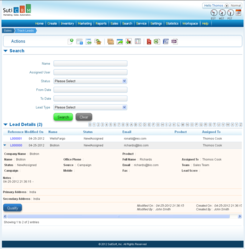 "SutiCRM 6.0.1 makes navigation and exporting records easier. The feature's rich solution enables users to collaborate with existing customers and reach new prospects"- said N.D. Reddy, founder and CEO of SutiSoft, Inc.
Los Altos, CA (PRWEB) October 02, 2012
New Features Include
New User Interface

New Icons - Appropriate icons to show options.
New Menu – Related features have been grouped together.
View Details – View item details on the page without having to navigate inside.
Pagination – Pagination options to easily navigate and view remaining objects.
New Dropdowns – New dropdowns that allow users to select multiple values.
New Calendar – New calendar highlighting past, current, future and high priority tasks.
Contracts for Global Users
Global users can now view contracts created within SutiCRM.
Improved Export Capabilities
Ability to select all records available for an object and export in convenient file formats.
SutiCRM is available in multiple versions: Free, Small Business, Corporate and Enterprise. Pricing starts at $5.95 per user/month. Visit http://www.suticrm.com for more info.
About SutiSoft Inc.
SutiSoft Inc. is a privately held company founded by N.D. Reddy, a successful Entrepreneur with over 30 years of experience in both the Hardware and Software industry as a Founder, and CEO. The Company's leading edge enterprise/SaaS application software products range from business productivity solutions such as Electronic Signature, Expense Management, Document Control Systems, Governance, Risk and Compliance, Security Solutions and others. The company's products are developed using Java, Flex, HTML 5, AJAX and other cutting-edge technologies which allow SutiSoft to retain its core values which are Simple, Scalable, Secured, and Seamless. Headquartered in Los Altos, California USA, SutiSoft has offices in Northern California, India, Germany and Japan.
Additional information is available at http://www.sutisoft.com.