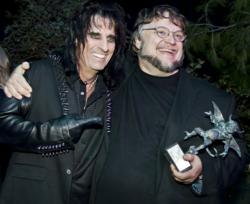 "Have fun tonight, but don't get too drunk and punch the zombies!" – Guillermo del Toro (Blade 2, Hellboy 1 & 2)
Hollywood, CA (PRWEB) October 02, 2012
For the first time in its 21-year history, Universal Studios Halloween Horror Nights can be experienced in 3D! The Brain Factory and 21st Century 3D serve up a behind-the-scenes VIP experience in 3D, including celebrity interviews with Guillermo del Toro, Darren Bousman (Saw), Adelaide Clemens (Silent Hill), Gina Holden (Saw 3D and Final Destination), John Murdy (Creative Director of Horror Nights) and more - plus a tour inside The Walking Dead Terror tram and other haunted houses.
Check out Universal Studios Halloween Horror Nights 2012 3D video
http://www.youtube.com/the3dnews on The 3D News on YouTube!
"Universal Studios is very forward-thinking to embrace 3D on the red carpet. I was thrilled for the opportunity to produce and host the first official 3D news from Halloween Horror Nights and the 2012 Eyegore Awards. For fans, it's the next best thing to actually being there," said Jon Schnitzer, co-owner of The Brain Factory.
The celebrities really opened up to Schnitzer, who was given exclusive access. Guillermo del Toro even shared what he looks for in a horror movie script, and then McKenzie Westmore (host of SyFy's Face Off) joined Schnitzer in The Walking Dead Terror Tram, to share some scares.
Schnitzer explains, "We shot this up-close and personal in extreme 3D, so viewers of The Brain Factory's YouTube channel can experience what it's like to be on the red carpet and inside the scariest haunted houses."
Many people don't realize that YouTube has a lot of 3D videos from around the world and supports many different 3D formats, depending on your device. Of course, if you don't have a 3D cell phone, 3D TV or 3D laptop, you can still watch YouTube 3D on your home computer with the old-school red and blue anaglyph 3D glasses.
The Brain Factory teamed up with 3D industry veteran Jason Goodman, Founder/CEO of 21st Century 3D, to bring out the best of Universal Studios Halloween Horror Nights in 3D.
"Jason and I share a passion for pushing the limits of 3D. And, with his 21 years of experience, I couldn't ask for a better stereographer," says Schnitzer. "The dark hallways and close quarters that make for a great haunted house present great challenges for 3D production."
Goodman says, "Although it was fun and exciting, uncontrolled live scenarios are always far more difficult to deal with in 3D than in 2D. We never knew where the action would be taking place or when. Lightning conditions went from complete darkness to bright flashes – in a split second and without notice. The whole premise inside the haunted houses is that you never know what might happen next or where the next ghoul will pop out."
"Really, 2012 is the first year this type of production could be accomplished, technically. Integral 3D cameras like the one we used are the only option, because a beam splitter would have a very difficult time moving through the spaces we were in – or taking the viewer on the intimate, scary ride alongside Jon," explains Goodman.
Put on your 3D glasses and become an instant VIP! Watch Universal Studios Halloween Horror Nights 2012 3D video http://www.youtube.com/the3dnews on The 3D News on YouTube! And, for more 3D news and behind-the-scenes, visit http://www.thebrainfactory3dblog.com