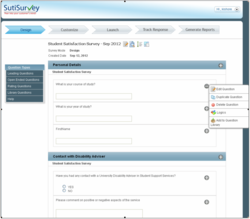 "SutiSurvey 2.0 adds additional user interface enhancements and features intended to speed up the survey creation process" - said N.D. Reddy, founder and CEO of SutiSoft, Inc.
Los Altos, CA (PRWEB) October 03, 2012
SutiSoft Inc., a trusted provider of hosted and enterprise solutions today announced the release of SutiSurvey 2.0, its online survey creation tool to send out surveys and collect feedback.
New Features Include
Add Questions from Library
Ability to add questions to a survey page from the sample library provided to quickly create a survey.
New Look & Feel
A right hand side menu has been redesigned and adds flexibility to perform actions.
Customize Logo
Ability to upload your company logo into your account. This logo will be displayed when viewing, sending, and emails to recipients.
Captcha Setting
Captcha security code in the widget can be turned on/off as needed.
SutiSurvey is available in multiple versions: Personal, Small Business and Corporate/Enterprise. Pricing starts at $14.95/per month for up to 10,000 emails. Visit http://www.sutisurvey.com for more info.
About SutiSoft Inc
SutiSoft Inc. is a privately held company founded by N.D. Reddy, a successful Entrepreneur with over 30 years of experience in both the Hardware and Software industry as a Founder, and CEO. The Company's leading edge enterprise/SaaS application software products range from business productivity solutions such as Electronic Signature, Expense Management, Document Control Systems, Governance, Risk and Compliance, Security Solutions and others. The company's products are developed using Java, Flex, AJAX, HTML5 and other cutting-edge technologies which allow SutiSoft to retain its core values which are Simple, Scalable, Secured, and Seamless. Headquartered in Los Altos, California USA, SutiSoft has offices in Northern California, India, Germany and Japan. Additional information is available at http://www.sutisoft.com.