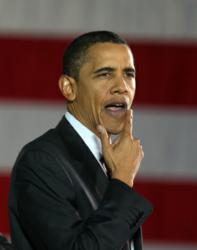 ...if you don't tell people what they should expect when they do business with you, they'll begin to make up their own assumptions.
(PRWEB) October 02, 2012
As the nation comes closer to watching one of the most highly anticipated presidential debates in history, Mitt Romney and President Barack Obama are making every effort to position themselves as a less skilled debater than the other. While this may seem a little counter-intuitive, PredictableProfits.com's CEO, Charles Gaudet argues that many small business owners should pay attention to this advanced marketing strategy.
"Let's face it, Obama's been widely believed to have stronger debate skills than Romney. This leaves the door open for Romney to exceed expectations with the pressure on Obama not to disappoint," says Gaudet. "But it's no different than how entrepreneurs set expectations for their businesses. Southwest Airlines makes it understood that there are no fringe benefits with their airline, you have to wait in line to get a seat and there will be no meals served on board. But because they've actively established customer expectations up front, the airline repeatedly receives positive ratings and reviews."
Gaudet stresses the importance of setting, managing, and reinforcing customer expectations. He says customers will be satisfied to the degree their expectations are met. Should expectations not be met, customers will be unsatisfied; on the contrary, exceeding customer expectations will result in a pleased customer.
These customer expectations must be communicated in the entrepreneur's marketing message, reinforced with the company's employees, and must be continuously met without failure or deviation. Gaudet urges entrepreneurs to understand that the role of marketing goes beyond just accumulating new sales; it also involves managing customer expectations for the benefit of happy customers, repeat customer purchases, and referral business.
"Entrepreneurs often underestimate the importance of managing their customers' expectations. You see, if you don't tell people what they should expect when they do business with you, they'll make up their own assumptions. Now the danger with that approach is if your customer expectations are higher than what you're delivering, you will inevitably disappoint your customer and generate negative word of mouth publicity," says Gaudet. "Now if you manage your expectations at a level you know you can meet every single time, and then exceed those expectations, you've created a happy customer. There's nothing more powerful than a business with lots of happy customers."
As the series of three Presidential Debates commences on Wednesday, October 3rd, will President Barack Obama disappoint a nation with high expectations or could Mitt Romney exceed voters' expectations and win the debates? At this critical and highly competitive juncture, the edge will come down to the party who manages voter expectations the best.
For more information on how entrepreneurs can benefit from the marketing strategies shared by Charles Gaudet, please visit http://www.PredictableProfits.com/FreeCD by November 10, 2012 to get an introduction to his widely acclaimed Entrepreneurial Growth System(TM) absolutely free.
ABOUT CHARLES GAUDET:
Gaudet has been called "The Entrepreneur's Marketing Champion" for consistently delivering windfalls of profits to his clients by unveiling hidden assets and opportunities that have been previously under-utilized or have gone unnoticed. Gaudet started his first business at the age of 4 when he set up a tollbooth in the hallway leading to his parent's bathroom, and has been ferociously committed to the study of successful business practice ever since. At age 24, after abruptly finding himself in millions of dollars in debt, he systematically grew his first multi-million dollar business. He is the founder of PredictableProfits.com. Follow Gaudet on Twitter at http://www.Twitter.com/CharlesGaudet.
ABOUT PREDICTABLE PROFITS:
Predictable Profits is a leading small business marketing company, specializing in finding overlooked marketing opportunities commonly found in most small-to-medium sized businesses for generating quick, dependable, and predictable profits without having to spend any more money in advertising. The company shares their marketing strategies with its Insiders' Club Members, private clients, and on their blog. You can read more about Predictable Profits by visiting the company's website at http://www.PredictableProfits.com.