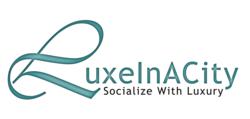 Our focus is on mapping the world one luxury brand at a time.
Montreal, Quebec (PRWEB) October 02, 2012
LuxeInACity is proud to announce the launch of its new interactive guide to cities of the world, providing luxury brands with a luxury advertising platform to promote their products & services to an audience of affluent travellers and consumers. In this long-term quest to connect elite consumers to luxury brands, the founders of LuxeInACity aim to create the largest curated list of premium providers from around the world. "Our focus is on mapping the world one luxury brand at a time. Our user, the affluent consumer & traveller, can then easily identify every premium brand in a given city without wasting precious time searching for them online. After all, for them Time is the Ultimate Luxury," commented Roxanne Genier, Co-Founder and President of LuxeInACity.
Bridging the gap between affluent consumers and premium brands at a local and international level is what makes LuxeInACity a leader in online luxury information. "To date more then 50 000 premium brands in over 125 cities have been identifies as such and close to 1000 now feature a comprehensive Luxe Enhance Profile through a variety of partnerships" commented Roxanne Genier. From a dedicated login area, each brand marketer can now customize the look and feel of the brand's profile by uploading their logo and coordinates, unlimited pictures, and a descriptive overview of their products and services.
Adopting an integrated social marketing strategy in their approach to reach the affluent consumer, the founders of LuxeInACity aim to create an ever-lasting synergy with each hand-picked luxury brand featured in their luxe guides. "In addition to driving traffic to their website, we set in motion a complete social media synergy between LuxeInACity and each luxury brand, moving traffic from our social media channels on Facebook, Twitter, and Pinterest to theirs" commented Maxine Genier, Co-Founder and Vice-President at LuxeInACity.
After travelling to over 70 countries while being at the service of the world's elite such as Russian billionaires and TV celebrities, either while working as crew members on-board luxury super yachts or as high-end personal assistant and concierge, the founders of LuxeInACity wanted to share their wealth of localized luxury information with those seeking the finer things in life. The need to find the best providers in a given city is at the core of LuxeInACity's offer to both luxury brands and luxury consumers.
About LuxeInACity.com
Launched in 2011 and with corporate headquarters in Montreal, Canada and Gothenburg, Sweden, LuxeInACity is an interactive guide to luxury cities from around the world. Providing priceless information to affluent consumers and travellers worldwide, each destination guides features a curated list of premium brands waiting to service the bespoke needs of these high-network individuals. To entertain these discerning consumers in their search, LuxeInACity provides an engaging, comprehensible website with insights on the world of luxury through several media channels, Luxe Blogs, Luxe Videos and Luxe News, and relating to several key categories such as cars, yachting, art & culture, fashion, fine jewellery, watches, wine & spirits, hotels, villas and more. LuxeInACity connects luxury consumers with the luxury brands they love through an interactive web platform that facilitates both brand awareness and brand reach.