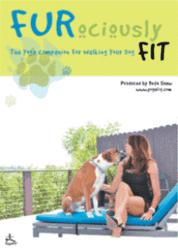 Los Angeles, Ca (PRWEB) October 04, 2012
Beth Shaw, Founder and President CEO of YogaFit® Training Systems Worldwide, has joined her two favorite passions: yoga and animals. In Furrociously Fit: The Yoga Companion For Walking Your Dog, Shaw incorporates the 20/30/40™ format with energizing, strengthening and relaxing routines to get pet owners ready for the time-honored daily task of walking their dogs. A long-time advocate for animal rights, YogaFit®, through Shaw's efforts, has supported and partnered with various animal organizations to prevent over-population and animal shelter euthanasia. On September 15, 2012, YogaFit® will release Furrociously Fit on DVD and will be available through YogaFit®.
About Furrociously Fit
The Furrociously Fit 20/30/40™ is a walking and yoga program for you and your dog offering stretches for before and after your walk, core work and upper body work to stay balanced, as well as a relaxation segment. 20/30/40™ refers to a 20-minute walk in the morning, 30 minutes at noon and 40 minutes in the evening for the best dog health. Also included is the segment "Dog Health Tips" with Dr. Alice Villalobos, a well-known pioneer in the field of cancer care for companion animals and a founding member of the Veterinary Cancer Society. Furrociously Fit companion CD is also available (SRP $14.95) featuring a variety of mellow to moderate tempo tracks with a mix of relaxing rhythms and energizing beats. Available at http://www.yogafit.com.
DVD Details
TRT: 90MIN
Street Date: September 15, 2012
Genre: Yoga/Instructional
SRP: $15.95
DVD Catalog NUmber: DV031
UPC: 065219401499
About YogaFit® Training Systems Worldwide
YogaFit® Training Systems Worldwide was established in 1994 and has since trained over 100,000 yoga and fitness professionals worldwide. The leader in mind body fitness education, YogaFit® is the largest training school for yoga instructors in North America with further expansion internationally. YogaFit® is the American Council on Exercise's (ACE) premier and only yoga partner. Founder and President, Beth Shaw, internationally recognized as the foremost authority on yoga and fitness having been profiled in print publications and television programs including, Oprah's O Magazine, CNN, The New York Times, USA Today, Entrepreneur, SELF and more. YogaFit® is committed to community service as well as supporting animals and humanitarian causes. For more information, visit http://www.yogafit.com.