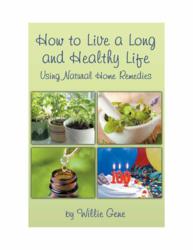 If my family history is any proof, the I must believe there is a cure IN NATURE for every disease known to man. We are told we are living longer, thanks to advances in modern medicine, but are we living better or merely existing? - Willie Gene
Jacksonville, Florida (PRWEB) October 01, 2012
Why doesn't the pharmaceutical and healthcare industry use plants and herbs to treat patients? They do but it's not advertised that way. And so begins the book as Willie Gene discusses the financial motivation behind big pharma. The book explains the history in the use of natural remedies with suggestions and recipes to treat everything from a cold to cancer. The book is filled with interesting tidbits and a straight-forward, no-nonsense approach that is Willie Gene.
Chapter 1- A Natural Approach to Healthy Living
Chapter 2- Livivn go be a Centenarian
Chapter 3- Nervious System and the Digestive System
Chapter 4- Lodmeu. Gall Stones and Urinary Problems
Chapter 5- The Adulteration of our Vital Salt Supply
Chapter 6- Out Situation Today
Chapter 7- Getting it Across
Chapter 8- Essential Oil Blends for Healthful Living
Chapter 9- Home Remedies from the Bayou and Around the World
Chapter 10- Finding Safe Suppliments
Think,Think very hard. When was the last "cure" that you can remember being allowed on the market?