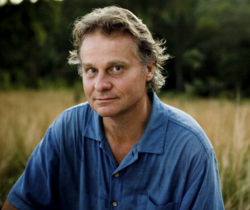 Salt Lake City, UT (PRWEB) October 01, 2012
Salt Lake Community College presents Wade Davis as the 2012 Tanner Forum on Social Ethics lecturer. His lecture is titled: "The Wayfinders: Why Ancient Wisdom Matters in a Modern World", and will take place at noon on Thursday, November 1, 2012 in the College's Grand Theatre. The Grand Theatre is located at 1575 South State Street in Salt Lake City.
Wade Davis is an Explorer-in-Residence at the National Geographic Society. An ethnographer, writer, photographer, and filmmaker, he holds degrees from Harvard University in anthropology and biology and ethnobotany. His work has taken him from the Amazon to Tibet, from the Arctic to Africa, from Australia to Mongolia, from Polynesia to New Guinea, living for extended periods among indigenous communities.
Davis is the author of 13 books including The Serpent and the Rainbow (1986), One River (1996), The Clouded Leopard (1998), Light at theEdge of the World (2001), and The Lost Amazon (2004). In 2009 he delivered the CBC Massey Lectures, Canada's most prestigious intellectual forum, which were published as The Wayfinders: Why Ancient Wisdom Matters in the Modern World. His books have been translated into 14 languages, and in 2002 he received the Lannan Foundation prize for literary nonfiction.
Among Davis's film credits are: Light at the Edge of the World, a four-hour documentary series produced for the National Geographic Channel. He is one of 20 Honorary Members of the Explorer's Club, a Fellow of the Royal Geographical Society and an Honorary Member and Fellow of the Royal Canadian Geographical Society. In 2009 he received the Gold Medal from the RCGS for his contributions to the fields of anthropology and his work in raising public concern about the plight of indigenous peoples throughout the world.
The Tanner Forum on Social Ethics brings nationally and internationally recognized speakers in the area of social ethics to Salt Lake Community College annually. The Tanner Forum enhances the College's mission as a community-based learning institution by providing opportunities for the students, faculty, staff and wider community to come together for the thoughtful examination of critical issues in contemporary social ethics. The Tanner Forum on Social Ethics is funded by the O.C. Tanner Company.
About the College: Salt Lake Community College is an accredited, student-focused, urban college meeting the diverse needs of the Salt Lake community. Home to more than 62,000 students each year, the College is responsive to Utah's economic development needs as the state's largest supplier of career and technical education programs. The College is the sole provider of applied technology courses in the Salt Lake area, with 13 sites, an eCampus, and nearly 1,000 continuing education sites located throughout the Salt Lake valley. Personal attention from an excellent faculty is paramount at the College, which maintains a student-to-teacher ratio of less than 20 to 1.
###