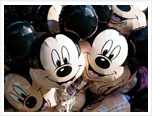 Celebrating one year of Disney Travel and Deals!
Harrisburg, NC (PRWEB) October 03, 2012
TMAIDA PR announces that Castles and Dreams Travel, a Disney expert in Disney deals and travel is celebrating its one year anniversary in October.
Started on October 1, 2011, which was the 40th anniversary of the opening of Walt Disney World in Florida, now has over eighteen (18) Disney travel agents all over the world, including the United State of America, Spain, Panama, Mexico and Argentina.
Kirsten Cuillard, owner of Castles and Dreams Travel, was recently invited as a guest on a special Adventures by Disney trips to Ecuador and the Galapagos Islands. Only a handful of agents (from other agencies) were chosen.
Kirsten plans her trip on Nov. 6-14, 2012. Adventures by Disney (ABD) provides planned and guided family vacations to various domestic and international destinations.
For more information on Castles and Dreams Travel, call Toll Free: 800-571-6313 or visit their website at: http://www.castlesanddreamstravel.com