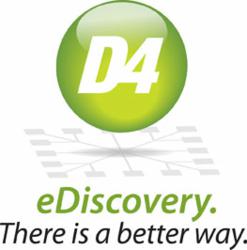 Rochester, NY (PRWEB) October 02, 2012
D4, LLC, a national leader in managed services, litigation support and eDiscovery solutions to law firms and corporate law departments, announced today that Tom Groom, vice president, senior discovery engineer, will present three sessions at the USLAW Network Client Conference, scheduled for October 4 – 6, 2012 in Washington, D.C. D4 is the exclusive eDiscovery corporate partner of the USLAW Network.
Who:
Tom Groom, vice president, senior engineer, D4
What:
Friday, October 5, 11:00 am ET: e-Discovery - Friend or Foe? Current e-Discovery Trends, Directions and Effective Ways to Reduce Costs
Saturday, October 6, 8:30 a.m. ET: Session III: "Leveraging Social Network Sites for Retail."
Saturday, October 6, 9:45 a.m. ET: Session IV: "Using Technology Assisted Review – Predictive Coding to Reduce Costs."
When:
Oct 4 – 6, 2012
Where:
Fall 2012 USLAW Network Client Conference, Omni Shoreham Hotel, Washington, D.C.
Why:
Attendees will learn best practices coupled with leading edge predictive coding technology to reduce costs in ediscovery.
USLAW NETWORK is an international organization composed of over 100 independent, defense-based law firms with nearly 6,000 attorneys covering the United States, Canada, Latin America, Europe and Africa. Within the U.S-based firms, there are over 160 offices in 47 US states. An alliance with the Trans-European Law Firms Alliance (TELFA) gives clients access to 26 European law firms each representing its own jurisdictions. A similar relationship with ALN Limited enables USLAW to partner with 12 firms throughout Africa. The NETWORK is comprised of AV-rated law firms who are part of the Network by invitation only.
About D4, LLC
D4 is a leading national provider of electronic discovery, computer forensics and litigation support services to AMLAW200 firms and Fortune 1000 companies. D4 was one of the first providers to offer an eDiscovery Managed Services solution, eNtrust, which launched in 2011. D4 has been instrumental in helping customers realize up to a 70 percent cost reduction over previous e-discovery solutions. The company's state-of-the-art data center operations in Rochester are complemented by electronic discovery and litigation support offices throughout the U.S. D4 has been recognized by Inc. Magazine as one of the fastest growing private companies in the US and is an INC 500/5000 honoree. Visit http://www.d4discovery.com for more information.