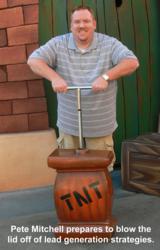 Obama's dismal performance in getting America back to work is a direct result of his lack of knowledge in what it takes to grow a business.
Las Vegas, NV (PRWEB) October 02, 2012
As President Obama prepares for his debate with Governor Romney, Pete Mitchell of Big Guns Marketing, LLC, reports that no matter how well the President does, he has already lost the economy. From the fruit stand at the local Farmer's Market to the next defense contract, nothing happens in America until something is bought or sold. Finding the people who are interested or could be made to be interested in any product or service is the secret key to all business growth.
Obama's fundamental lack of knowledge in lead generation tactics is the foundational flaw in his economic policy. Lead generation is the backbone to all commerce in America. Finding the right people to raise their hand and declare their interest in a product or service offered is the only way a business can sustain itself and grow in the future. Yet most politicians, including President Obama, are absolutely dismal at helping businesses generate leads.
According to a new nationwide survey of small business owners and managers, 68% surveyed said that they are investing in new technology to avoid new laws and regulations. These monies that were once earmarked for expenditures to help grow the business, such as on lead generation strategies, are now being squandered on material that will not help grow their companies and thus will not help the economy by creating jobs.
"Obama's dismal performance in getting America back to work is a direct result of his lack of knowledge in what it takes to grow a business" stated Pete Mitchell, who has the title of Chief Marketing Mercenary at Big Guns Marketing, LLC, "That's why we decided to put on a complimentary webinar for business owners across America that reveals lead generation strategies that are guaranteed to bring in more business."
Many economists have suggested that the only way to survive the flood of new regulation that is coming combined with the current economy that is trending downward is to simply make more money. Making more money under these conditions requires new ideas on generating leads even in the b2b market.
To help promote these lead generation strategies, Big Guns Marketing is putting on a complementary webinar to help struggling business owners and independent sales professionals discover ways to generate new leads for their business. Big Guns Marketing promotes avoiding the scam webinar that is designed to sell an overpriced lead generation system that does little more than separate the business from their working capital. The new webinar will launch at http://UltimateLeadMachine.com and help those looking to grow their business in spite of who wins the upcoming election.
For more information on lead generation strategies from Pete Mitchell and Big Guns Marketing, visit http://UltimateLeadMachine.com.