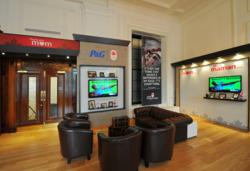 GES was instrumental in helping our team ensure it was the perfect 'home away from home' in London for our athletes and their friends and families.
LAS VEGAS (PRWEB) October 02, 2012
Global Experience Specialists (GES), a leading provider of exhibitions, events and entertainment experiences, together with the Canadian Olympic Committee (COC) completed the design and build of interior space in the Canada Olympic House by iconic Trafalgar Square for the 2012 Olympic Games in London.
The house, a historic building from the 1820s that is now home to the Canadian High Commission in London, was transformed by GES for the Olympics to be a "home away from home" for Canadian athletes, as well as their friends and families. GES completed and installed multiple vignettes where Canada's finest could drop laundry, check their email, keep abreast of the latest Olympic news, relax with family and friends, and mingle with major partners of the COC. More than 15,000 guests entered the house during the Olympic Games.
According to Derek Kent, the COC's Chief Marketing Officer, "This has been one of our most successful Canada Olympic Houses ever. Everyone loved it. GES was instrumental in helping our team ensure it was the perfect 'home away from home' in London for our athletes and their friends and families." Kent continued, "From helping guide our ideation to design to execution, GES was on target in creating an inviting atmosphere for our athletes to celebrate their achievements in London. GES' dedication and their experience and professionalism during planning and execution, helped ensure its success."
A truly global effort, GES employees from Canada and Europe in addition to several U.S. offices fulfilled the COC's vision for their athletes and their Friends and Family program at the Canada Olympic House.
"The GES team was honored to be selected by the Canadian Olympic Committee to create a comfortable, home-like environment for Canada's dedicated Olympians and their friends and families," said GES Vice President of Global Events/Client Relations Doug Shockley. "Transforming the Canadian High Commission building into an inspiring respite was a project that our team was very proud to execute."
About GES
Global Experience Specialists, Inc. (GES), a Viad Corp (NYSE: VVI) company, is a leading marketing agency that produces exhibitions, events, exhibits and retail environments. GES provides a wide range of services, including turn-key official show services, cutting-edge creative and design, marketing and measurement services—all with an unrivaled global reach. GES partners with leading shows and brands, including the International CES, Spring Fair Birmingham, International Woodworking Fair, CONEXPO-CON/AGG and IFPE, Bell Helicopter, Genzyme, L'Oreal, Warner Bros., and Simon Property Group. GES' National Servicenter® has been recognized with certification under the J.D. Power and Associates Certified Call Center Program℠ for the past four years, and for the third year in a row, Ad Age has named GES as one of the "World's 50 Largest Agency Companies." For more information, visit ges.com or the GES blog at defyingconvention.ges.com.