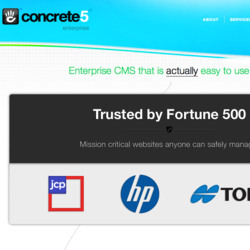 everyone's used to enterprise software being a horrific usability nightmare...
Portland, OR (PRWEB) October 03, 2012
concrete5 is the fastest growing open source CMS and has been quite popular with the DIY web builder market since 2008. During that time many large organizations have quietly used concrete5 for mission critical projects. Now the team behind concrete5 has launched a set of tools, services and a small marketing website geared toward the needs of the enterprise market.
"Before we went open source, we used Concrete CMS to build online communities for startups and well known brands like Kettle Foods and the National Guard," says Franz Maruna, CEO at Portland Labs. "Once we went open source we were ecstatic that so many different types of organizations found concrete5 to be a great way to manage their website. We've heard it said in social media that concrete5 is great for 'small sites' and while that's true, it is just as great for large sites as well. Perhaps it's because concrete5 is visually appealing and easy to use, and everyone's used to enterprise software being a horrific usability nightmare to deal with."
The new website http://enterprise.concrete5.com presents case studies, services, and software that might appeal to larger clients interested in web content management. The home page clearly touts concrete5's use by HP, JCPenney, and several large colleges. 24/7 support SLAs from the core team are available, along with typical consulting and integration services. To ice the cake, a powerful multi-step workflow system gives organizations granular control over everything on their website.
"We built workflow to handle the most complex of business processes," says Andrew Embler, CTO at Portland Labs. "You can tie workflows to permissions, and you can create permissions for anything. Any step in a workflow can trigger different events on success or fail, and you can make your own access entities to represent abstract use cases. We even built in batch approval so you can launch a whole section of your site at once. However complex you want to make it to get your website updated - concrete5 can add that accountability while still making the basic edit simple to perform."
About concrete5
concrete5 combines the ease-of-use of a blogging platform with the flexibility and power of a web development platform. To date, hundreds of thousands of advertising and creative agencies and web developers around the world have downloaded concrete5 for free and used the technology to quickly and inexpensively build enterprise-quality web sites that can be updated by end users. For more information, please visit http://www.concrete5.org.
About Portland Labs
Portland Labs is a group of creative professionals who challenge preconceived notions of how things must be done. A mix of client driven and internal projects fill their days with interesting questions. Often they use technology to drive a unique solution, but really they're just looking to do cool stuff in new ways.