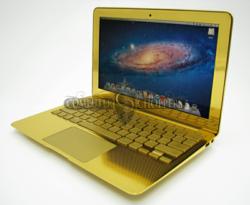 Las Vegas, NV (PRWEB) October 05, 2012
The latest Macbook Air lineup features specialty plating in platinum, black chrome, 24kt gold and over 20 additional options. The soft metal surfaces come with a crystal clear protective hard coat to maintain the plating for years to come. Additional enhancements include a variety of finishes, color matched keyboard, trackpad, and glowing or diamond encrusted logo for a personalized appearance that is sure to stand out.
From small beginnings Computer Choppers owner Alex Wiley has taken this unique customization company to an internationally recognized luxury brand. Not far from the world renowned Las Vegas Strip, Computer Choppers specializes in plating and jewelry for Apple brand laptops, iPads, and iPhones. They also customize an array of electronics around the world from smartphones to game consoles. For years personalization and quality craftsmanship has separated this company from smaller brands and has been the key to their continued success in this emerging market.
To view their online gallery or request your own custom designed electronics, visit http://www.computer-choppers.com or call 1-800-882-8062 (U.S./Canada) or +1 85 82 31 79 35 (International).
Technical Specifications:

2.0GHz Intel Dual-Core Core i7, Turbo Boost up to 3.2GHz
8GB 1600MHz DDR3L SDRAM
512GB Flash Storage
Intel HD Graphics 4000
720p FaceTime HD camera
LED-backlit glossy widescreen display with support for millions of colors
802.11n Wi-Fi wireless networking; IEEE 802.11a/b/g compatible
Bluetooth 4.0 wireless technology