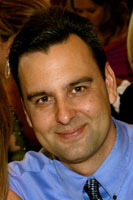 By integrating AMPscript and Server-Side JavaScript, email designers have the power to easily adhere to even the most advanced business logic
San Mateo, CA (PRWEB) October 03, 2012
ClickMail Marketing, http://www.clickmailmarketing.com, innovative email marketing consultants and value-added reseller of ESPs, announced that Cameron Kane, ClickMail's Chief Technical Officer, will be co-presenting a session on "Advanced Data-Driven Design with Scripting," at the ExactTarget Connections 2012 conference in Indianapolis, IN, on October 16th.
The session, Advanced Data-Driven Design with Scripting, is an essential best-practices workshop for email designers using the ExactTarget email service platform who want to realize the true potential of one-to-one marketing. Attendees will learn to harness AMPscript and Server-Side JavaScript to deliver targeted, eye-popping designs that impress subscribers (and chief marketing officers).
Using the techniques described in this presentation, ExactTarget users will learn how to integrate their Publication System to execute targeted audience and display logic that uses a single email template to automatically generate more than 100 products—such as precisely personalized and relevant newsletters, dynamically created to match specific subscriber preferences. Co-presenting this session will be Brandt Wagner and Jason Brierley, Technical Producers at ExactTarget, and Jack Nick, Senior VP, Internet Marketing Manager at First Midwest Bank.
"It is very nice to work with an Email Service Provider who offer flexible tools to build very complex and tailored solutions," said Cameron Kane, ClickMail's CTO. "By integrating AMPscript and Server-Side JavaScript, email designers have the power to easily adhere to even the most advanced business logic."
About ClickMail Marketing, Inc.
ClickMail Marketing is an email marketing consultancy and value-added reseller of email service providers and email solutions. The company offers the nation's largest selection of ESPs and stays vendor neutral so they can recommend the email solution that will best suit each client's needs. Three-time and current honoree on Inc. 500|5000 list of the fastest-growing private companies in America, ClickMail Marketing is a privately held California Corporation with headquarters in San Mateo, CA. For more information, visit http://www.clickmailmarketing.com.