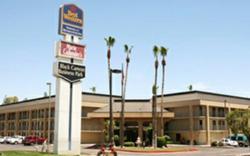 one of only a handful of non-distressed opportunities in the Phoenix market in the last four years
Phoenix, Arizona (PRWEB) October 02, 2012
Principal Broker for newGen Commercial Realty, Dinesh "Dan" Rama, is pleased to announce the sale of the 147-unit Best Western Metro Center Inn in Phoenix, Arizona. The property includes an outdoor swimming pool, spa and 4,000 square feet of meeting space.
Representing both Buyer, an international investment group, and Seller, New Age Hospitality, Inc., Rama's sale coincides auspiciously with the opening of festivities for the 2012 Lodging Conference at the Arizona Biltmore, only 10 miles from the Metro Center Inn. With tens of thousands scheduled to take part in the event, it would be no surprise if attendees of the conference were staying at the Best Western.
The hotel started operations as a Best Western Metro Center Inn in late 2006 and quickly climbed to its peak in 2007. From 2008 through the middle of 2010, the hotel, along with the market, took a significant revenue decline due the devastating economic climate. The Arizona real estate market was one of the hardest hit U.S. areas during the recession.
The hotel saw new signs of life in the fall of 2010. Since October of that year, the average daily rate, occupancy, revenues and RevPAR, or revenue per available room, increased month over month. The trend was expected to continue for the foreseeable future due to the increase in confidence of consumers and the economy.
Being one of only a handful of non-distressed opportunities in the Phoenix market in the last four years, the property, with an original listing price of $4.8 million, was one of the most tracked listings in the history of The Hotel Inventory, a commercial real estate marketing service specializing exclusively in the hospitality industry.