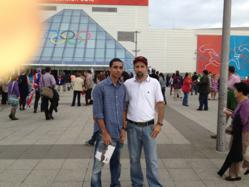 London is a beautiful city!
Santo Domingo, DR (PRWEB) October 03, 2012
Occidental Vacation Club, a division of Occidental Hotels and Resorts (Madrid), sent Nector Tejada from the Dominican Republic to London this summer to experience the Olympics. Nector, a First Club member from the all-inclusive timeshare resort Allegro Puerto Plata, and his son Sterling spent an entire week exploring London and enjoying the Olympics.
"We had a great response for this drawing which was tied into our member referral program," said Marcel Olivares, Vice President of Marketing for the all-inclusive timeshare resort headquartered in the Dominican Republic. "Our members participated by referring friends and family members. For each referral an electronic ticket was generated as an entry. We had three lucky winners in all!"
Grand Prize Winner Nector Tejada raved about the once-in-a-lifetime trip on Occidental Vacation Club's blog (Share the Joy) saying "London is a beautiful city. We visited the Tower of London, St. Paul's Church and the Olympics, particularly the boxing competition. It was a great experience."
The other winners were Jaqueline and James Kingsbury who won an all-expense paid trip to Athens, Greece; they are from Prince Albert, Saskatchewan, Canada and are First Club Members (Occidental Grand Cozumel); the second winners were First Club Members (Occidental Grand Aruba) Louis and Sophia Van Rooyen, from Sanford, Manitoba, Canada who received a fully paid trip to Paris, France.
Occidental Vacation Club has an annual drawing among those who invite friends to experience what they love about the Club. Those friends receive a special discount off the All Inclusive rate and members receive both referral credits, as well as a chance to win big prizes, such as all-expense paid dream vacations.
The club has resorts located in Aruba, Costa Rica, The Dominican Republic, and Mexico. There are more than 23,000 members at 11 Occidental Vacation Clubs. The all-inclusive clubs feature limitless meals and snacks, á la carte dining in specialty restaurants including unlimited alcoholic beverages; sports (including tennis on a lighted court, water polo, aqua aerobics, and kayaking where available), use of the fitness center and more. Daily entertainment and a supervised Kids Club (ages 4 – 12) are also part of the package, as well as nightly shows and live entertainment and all taxes and gratuities.
Although the resort is part of a Vacation Club which offers exclusive features and amenities to its members, it is open to the public for all-inclusive vacations. For information on rates and specials, as well as vacation club membership, go to: http://tinyurl.com/OccidentalVC . US and Canadian callers may call 1-888-538-8048. For more international numbers email info(at)occidentalvacationclub.com Follow on Twitter @OccidentalVC facebook.com/occidentalvacationclub Or check out the online blog at http://sharethejoy.occidentalvacationclub.com/