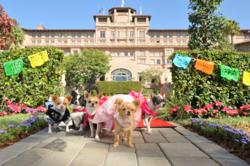 Pasadena, CA (PRWEB) October 03, 2012
The Langham Huntington, Pasadena is pleased to launch The Langham Huntington Doggie Program, just in time for the release of Walt Disney Studio's release "Beverly Hills Chihuahua 3: Viva La Fiesta!," which is available now on Blu-ray™ Combo Pack, DVD and HD Digital. Shot on location at the hotel, the all-new family comedy showcases Chihuahua stars Papi (voice of George Lopez), Chloe (voice of Odette Annable) and their five pups enjoying the luxurious amenities on property.
Dogs at The Langham Huntington, Pasadena will now be able to enjoy a host of amenities and offerings including in-room gourmet meals and pooch massages! The Langham Huntington Doggie Program includes usage of the new Langham branded pet items, including a pink porcelain pet bowl, gold colored mat and plush pink bed pillow; a bag of gourmet doggie treats; and The Langham Doggie newsletter, which highlights dog-friendly restaurants and parks around town. The mandatory pet fee is $135 per stay and includes the one-time room deep cleaning fee. The Langham pet bowl, mat and bed pillow are available for purchase in the Flavours of Langham gift boutique or upon check-out.
In addition to the luxurious pet items, guests can order room service dishes for their pets such as "The Bowser Burger," "Chow Down Chicken Breast" and "Scrappy's Steak n' Eggs." The menu items include:
The Bowser Burger $12
All-beef burger served with raw carrots and snap peas
Chow Down Chicken Breast $12
Grilled free range chicken breast served with a side of rice
Scrappy's Steak n' Eggs $24
Petite filet mignon, served with two scrambled eggs
The Doggie Diet: Crunchy Crudité $12
Raw carrots, snap peas, green beans and sliced apples
Doggie Side Dishes:
Pooch's Pilaf
$3 per side of rice
All Natural Dog Treats from Three Dog Bakery
$3 per bag
Tiffin Afternoon Tea Treats from Three Dog Bakery
Choice of Mini Donuts, Cupcakes, Carrot Cake
$4 per selection
For dogs that prefer dry pet goods, a complete range of dehydrated whole foods and premium dry dog food are available from The Honest Kitchen and Ziwi Peak. Prices range from $5 to $10 per serving, not inclusive of tax and gratuity.
For the ultimate pampering, Langham dogs can enjoy an array of spa massages such as Swedish, Acupressure and Cold Stone exclusively provided by Bliss Paws, Certified Canine Massage Therapists. The following treatments will be incorporated into the dog's massage depending upon its needs and preferences:
Swedish
Helps reduce pain, joint stiffness, increases circulation and improves functions among dogs with joint disorders. Relieves stress, tension and anxiety.
TTouch
A method based on circular movements of the fingers and hands all over the dog's body. Helps increase the dog's body awareness, and is beneficial for physical and mental ailments.
Acupressure
Helps reduce muscle spasm, inflammation and swelling while releasing endorphins to reduce pain and increase energy. Acupressure enhances circulation, blood flow and relaxation, increases strength and promotes tissue healing.
Stretching
Warm up the dog's muscles ensuring that joints are lubricated and more supple. Stretching prevents muscle-related problems and strain injuries.
Myofascial Release
Relaxes the dog's contracted muscles and increases circulation and lymphatic drainage while stimulating and stretching the muscles and overlying fascia.
Massage Treatment Enhancements:
Cold Stone Massage
Marble stones are rubbed over the dog's body to reduce inflammation and swelling. $20 for 10 minutes
Yoga Ball Exercise
Improves reaction and control, balance and the dog's sensory awareness. Increases the dog's trunk and core strength, range of motion in joints and promotes elongation of the muscles. $30 for 15 minutes
Paw Care
Natural and organic remedies to prevent abrasions, burning, drying and cracking. Provides relief, recovery and protection. $20 for 10 minutes
Aromatherapy
Uses organic essential oils developed especially for dogs. Increases calmness and relieves hormone-related anxiety, along with easing joint pain, digestive problems, respiratory conditions and circulatory issues. Prevents fleas and ticks, provides itch relief and eliminates odor. $20 for duration of massage session
Dog Walk
A brisk walk for your dog before or after a massage session. Walking prior to the session is highly recommended to promote bonding between therapist and dog. $30 for 15 minutes
The price for the Doggie Spa Massage is $120 for 50 minutes and $145 for 80 minutes. Bliss Paws will provide dog massage therapies in the guestroom with the owner present. Reservations must be booked 24 hours in advance. To book an appointment, please call The Huntington Spa at (626) 585-6414.
The Distinguished Doggie Package
Relax in luxury with The Langham's Distinguished Doggie Package, which includes overnight accommodations for the guest and their pooch; a "Beverly Hills Chihuahua 3: Viva La Fiesta!" Papi or Rosa plush toy; and "Bow Wow Breakfast" selections from the in-room dining menu and gourmet doggie menu, valued up to $80. Additionally, dogs will have usage of a Langham pet bowl, mat and bed pillow, and will receive a bag of gourmet doggie treats upon check-in! Rates starting at $435 per night, non-inclusive of tax. To book the package, please visit http://pasadena.langhamhotels.com.
For additional information or to make a reservation, dial (626) 568-3900. Fans can follow The Langham Huntington, Pasadena on Facebook and Twitter. The hotel is located at 1401 S. Oak Knoll Ave., Pasadena, CA 91106.
About The Langham Huntington, Pasadena
Capturing the grace and elegance of classic Southern California, The Langham Huntington is an iconic landmark hotel located at the base of the picturesque San Gabriel Mountains, just minutes from downtown Los Angeles in beautiful Pasadena. A renowned Pasadena hotel since 1907, the property features 380 guestrooms including 38 suites, eight cottages, award-winning dining and a luxurious spa featuring treatments based upon Traditional Chinese medicine. For more information, visit http://pasadena.langhamhotels.com
About "Beverly Hills Chihuahua 3: Viva La Fiesta!"
Available now on Blu-ray Combo Pack, DVD and HD Digital, Papi is back, and he's ready to party! From Walt Disney Studios, everyone's invited to the ultimate celebration of friendship and family, "Beverly Hills Chihuahua 3: Viva La Feista!" Join Papi (voiced by George Lopez) and his two-and four-legged family as they move into a posh Beverly Hills hotel, complete with a luxurious doggie spa. But there's trouble in puppy paradise when Rosa, the littlest member of the pack, feels smaller and less special than ever. Now it's up to Papi to help Rosa find - and celebrate - her inner strength, which turns out to be bigger than she ever dreamed. Overflowing with laughter, love and excitement, this is tail-wagging fun for the whole family!
# # #