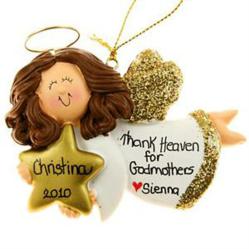 With over 5500 Personlized Christmas Ornament Decorations to choose from owner Ellen Morstein is "confident that there is something in store for everyone.
Owing Mills, Maryland (PRWEB) October 04, 2012
From October 4 to October 13, 2012, Ornaments And More will be hosting a Gratitude Sale on all of their Personalized Christmas Ornaments. Open to shoppers throughout the USA and Canada, all ornaments will be available for 10% off the suggested price. Visitors must use coupon code CCGET10 at checkout to apply the discount.
The sale itself celebrates the upcoming Canadian and USA Thanksgiving holidays and applies to all in store ornaments. To regular shoppers this is just a great way to give thanks to friends, loved ones, employees or other special someones, to Ornaments And More this is a great way to give back.
With over 5500 Personalized Christmas Ornament Decorations to choose from owner Ellen Morstein is "confident that there is something in store for everyone." Ellen says "we have an excellent selection of personalized family Christmas ornaments and once visitors see this – they are ecstatic to start their collections and always come back for more."
Online at http://www.OrnamentsAndMore.com shoppers can select from all sorts of adorable family ornaments including specialize ornaments for mothers and fathers, brothers and sisters, sons and daughters, grandparents, grandchildren and more in the Personalized Family Member Ornaments area. Plus the store has a special selection of Breast Cancer Survivor and Angel Ornaments that are extremely popular at this time of year.
If one's ornaments of choice are dedicated to offering Gratitude to colleagues friends and loved ones, Ornaments And More has many ornaments that qualify. In fact, most ornaments in store can be personalized with a gratitude message.
Simple messages such as "Many Thanks", "Thanks to You", "A Million Thanks", "A Heartfelt Thank You" etc. are just the beginning. One can also customize a Christmas ornament with sentiments such as "Thank You for Being You", "Thank You for Being the Best Grandma" and "Thank You for Being the Best Friend Ever". Shoppers are not restricted by the ideas provided on the site or on the ornaments.
At Ornaments And More shoppers are encouraged to use their own imaginations too. If a shopper see's an ornament that they like, how they personalize it is entirely up to them. Ornaments And More is proud to offer more options for personalizations than many of it's competitors too. All personalization's are also free.
Buyers are encouraged to "Like" the ornaments and more Facebook page for additional, exclusive, offers and contests throughout the year as well.