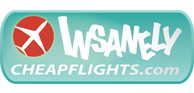 Portland, Oregon (PRWEB) October 02, 2012
InsanelyCheapFlights.com is currently offering a special $20 discount on bookings for flights leaving from Portland, Oregon. Those looking to fly from Portland to both domestic and international locations are eligible for the discounted airfare by simply applying the ICF20 promo code during the checkout process. The discounted flights from Portland are being offered through December 31, 2012. Complete details regarding the airfare sale can be found on the company's site.
"It's a busy time of the year for traveling, including business travel," explains Steve Oliverez, founder of InsanelyCheapFlights.com. "Our sale on airfare helps to keep costs down and gives travelers easier access to cheap airfare. Wherever they choose to fly from Portland, we have them covered."
Most flights out of Portland are included in the sale. Travelers will find that the discount applies to even the most popular airfare routes leaving PDX, such as Portland to San Francisco, Portland to Las Vegas, Portland to Hawaii, Portland to Chicago, and Portland to Boston. Whether people are traveling home for the holidays or want to take a family vacation, they will find cheap airfare from Portland with the current sale.
Those flying into Portland also qualify for the cheap airfare, regardless of what city they are arriving from. By conducting a quick online search at the site, travelers will find all the flight info they need, including several airlines to choose from. Once choosing a preferred flight, travelers will just need to enter the promotional code at checkout in order to receive the $20 discount on airfare. The site provides flight information and opportunities from destinations around the country, as well as international flights.
"Cheap airfare is still available, you just have to know where to find it," added Oliverez. "Our mission is to help people find discounted airfare. We provide the sale so that we can give people the cheaper airfare they need during this time of the year."
Complete airfare sale details can be found online at the company site. The promotional discount applies to service fees and flight bookings only. For more information or to view discount airfare opportunities, InsanelyCheapFlights.com.
About InsanelyCheapFlights.com
InsanelyCheapFlights.com provides discounted airfare to destinations around the country, as well as around the world. Users can log onto the site and search for cheap flights for their vacations, business travel, and more. Along with cheap airfare, they also provide access to discounted hotel rooms, as well as the ability to add discounted car rental. They provide a complete discounted travel booking site. For more information, visit the site at InsanelyCheapFlights.com.