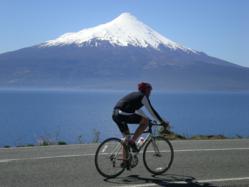 Chattanooga, TN (PRWEB) October 03, 2012
BikeToursDirect is now offering its first bicycle tour in South America: Chile's Lake and Volcano District. With this new tour, BikeToursDirect now offers cycling tours on every continent except Antarctica.
This new tour follows back roads through a landscape dominated by clear-water lakes and live volcanoes. Cyclists will pedal alongside rolling, green meadows, and through national parks. Stops along the route include ethnic villages and natural hot springs, recognized as among the best in the world and a soothing end to a day's ride. Cuisine is another highlight of the tour, showcasing the wine, fresh produce and South Pacific Ocean seafood that have made Chilean cuisine known worldwide.
Land cost for the 8-day tour through Chile's Lake and Volcano District is $3,125 and includes support van, guide, accommodations, most meals and entrance fees.
This Chile bicycle tour is only one of several tours offered by BikeToursDirect through some of the most beautiful places in the Southern Hemisphere. As temperatures begin to drop in North America, travelers can fly south to enjoy these active vacations in warmer climates.
Travelers who enjoy cycling can taste their way through the Winelands of South Africa, take a cycle safari in Namibia, pedal through emerald rice paddies in Bali, or bike across New Zealand's breathtaking South Island.
Southern Hemisphere bicycle tours are available in Africa, South America, Asia, and the Pacific Islands. Contact BikeToursDirect at 1-877-462-2423 or info@biketoursdirect.com for more information on any tour.
About BikeToursDirect
BikeToursDirect serves as a central resource for bicycle tours around the world, representing 75 tour companies that offer more than 300 tours in 60 countries throughout Europe, Asia, Africa, Australia and the Americas. BikeToursDirect offers a variety of resources to help travelers search for and choose tours and handles the entire booking and payment process.
Learn more at http://www.biketoursdirect.com.