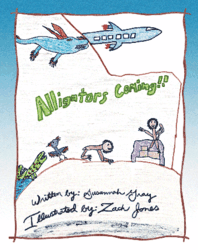 (The book) features imaginative adventures led by the author's son, Zach Jones, who drew the illustrations for the book.
Indianapolis (PRWEB) October 03, 2012
A single act of make-believe – pretending her bed was a boat – transformed the author's house into a veritable zoo when her oldest son was young. This new illustrated children's book features a cast of creatures that includes bears, monkeys, sharks and, especially, alligators. Critters that are even more fanciful make an appearance as well, with dragons visiting to check out the toy trains.
"Alligators Coming!!" features imaginative adventures led by the author's son, Zach Jones, who drew the illustrations for the book. When Zach was a toddler, he didn't talk much, so when he did speak, his family really paid attention. Shouting "Alligators coming!" was one such phrase, followed by Zach running around the house to escape them. Soon, whenever he wanted to play with his pretend animal friends, he yelled "Alligators coming!" Now his mom never knows when sharks will make themselves at home in the bathtub, monkeys will jump on the bed or bears will lounge on couches and teach Zach to growl.
This is the second children's book for author Susannah Gray, who works as a training specialist for Child, Youth and School Services on the small military base in the Republic of the Marshall Islands where she lives. Her son Zach drew the illustrations. Her first book, "Gotta See Nathan!", was illustrated by her son Nathan. Gray was born and raised in Alabama.
----------
For additional information, please visit http://www.AlligatorsComing.com.
Alligators Coming!!
Susannah Gray
Dog Ear Publishing
ISBN: 978-1-4575-1316-9, 20 pages, $15.00 US
Available at Ingram, Amazon.com, Barnes & Noble and fine bookstores everywhere.
About Dog Ear Publishing, LLC
Dog Ear Publishing offers completely customized self-publishing services for independent authors. We provide cost-effective, fast, and highly profitable services to publish and distribute independently published books. Our book publishing and distribution services reach worldwide. Dog Ear authors retain all rights and complete creative control throughout the entire self-publishing process. Self-publishing services are available globally at http://www.dogearpublishing.net and from our offices in Indianapolis.
Dog Ear Publishing – self-publishing that actually makes sense.