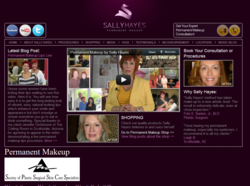 Clients are always asking me what my secrets are, so now we've posted them on the website
Scottsdale, AZ (PRWEB) October 02, 2012
Walk the walk if you want to talk the talk. This is true in business especially for a leading beauty service provider. In order to show how easily permanent cosmetics gives a woman an enhanced appearance and saves her time and effort every day for years at a time, the industry's leading expert artist mirrors this with her new look website by offering more and creating it an even easier user-friendly experience.
"Instead of a whole box filled with various video selections to choose from, now all a woman has to do is simply hit one play button on the homepage," says Sally Hayes, renowned permanent makeup artist since 1986 and original owner of permanentmakeup.com. "And in the one video we address many of the points of interest which clients say are most important to them."
Beyond the homepage, the website makeover features expansion to include a shopping section with proven solutions for skincare and growing longer, fuller eyelashes. "I'm only offering products I've used successfully on myself, or products I know very well," says Hayes. "Clients are always asking me what my secrets are, so now we've posted them on the website and made them available for everyone to explore, consider, or try for themselves whenever they want."
Hayes knows all too well how many of her permanent makeup clients from New York City to Los Angeles are hoping to enjoy both the rewards of the time and effort saving benefits as well as the natural-looking enhancement they receive of their facial features. She prides herself on being able to use her experience over tens of thousands of procedures to get clients the results they want as quickly and easily as possible.
About Sally Hayes Permanent Makeup
Sally Hayes is recommended and referred by a number of the finest plastic surgeons across the United States. Widely regarded as the nation's leading expert permanent makeup artist, she works six days a week helping women across America and around the world to achieve an easy to manage enhanced appearance which fits their active lifestyle. With office locations in Scottsdale-Phoenix, New York, NY, Las Vegas, NV, and Los Angeles, CA, she specializes in natural-looking permanent eyeliner, eyebrow tattoos, permanent lip makeup, and cosmetic camouflage for areolas and post-surgery facelift scars.
For more information, visit http://www.permanentmakeup.com.
Contact Information:
Sally Hayes Permanent Makeup
10201 N. Scottsdale Road
# 20 (inside Salon Studios)
Scottsdale, AZ 85253
(480) 951-0539