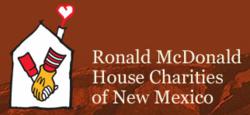 Santa Fe, New Mexico (PRWEB) October 01, 2012
New Mexico's Ronald McDonald House will continue to kick-off their 30th Anniversary celebration at Los Alamos National Bank in Santa Fe and Los Alamos. The community is invited to meet the Executive Director and help celebrate, learn about the charity and its mission, get resources and learn about ways to help. Cupcakes and beverages will be served. Los Alamos National Bank is featured company on Santa Fe's premier on-line magazine, SantaFe.com.
The Ronald McDonald House officially opened its doors in 1982. Since then, it has grown from its original eight guest rooms to its current 30 rooms and includes a full kitchen, dining rooms, family lounges, library, computer center, and playroom/playground facilities for guests' use. Over 45,000 families have stayed in the House's comfortable and supportive home environment. Families from Santa Fe County traveling to Albuquerque to seek medical care for their ill child not available in the area average 709 nights each year at the Ronald McDonald House, families from Los Alamos County have accounted for 165 family nights annually.
Since its founding, Ronald McDonald House Charities of New Mexico has had an unchanged, unduplicated mission to provide temporary lodging, comfort, and care to families with ill or injured children receiving inpatient or outpatient care from any Albuquerque medical provider for any diagnosis. It serves families residing more than 50 miles away from the treatment location.
For more information, visit http://www.rmhc-nm.org or follow on Facebook and Twitter @RMHCofNewMexico.
CONTACT: Kristin Rortvedt,
Ronald McDonald House Charities of New Mexico
Kristin Rortvedt - 505-362-1099.
Ms. Rortvedt will be available for interviews during her visit.
About SantaFe.com:
SantaFe.com provides locals and visitors to Santa Fe alike the most current interactive platform for events, music, arts, business, dining and lifestyle. SantaFe.com is a division of Hutton Broadcasting, located at 2502 C. Camino Entrada, Santa Fe, NM 87507
Contact Information:
Scott Hutton
SantaFe.com / Hutton Broadcasting
http://www.santafe.com
(505) 471-1067 (Media inquiries only, please)