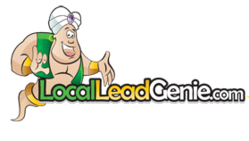 We plan to fill that need, for those doctors who want an online presence and a way to attract new patients, without having to learn internet advertising and marketing skills
Neptune, NJ (PRWEB) October 03, 2012
Recognizing the need for medical advertising and marketing through the internet, Local Lead Genie now specializes in medical marketing services for doctors, who need to broaden their patient base. Today's busy doctors don't have the necessary skill-set to market themselves and their practice, and Local Lead Genie plans to fill that gap. Doctors who outsource their advertising and marketing needs find it allows them more time with patients, and less time spent on trying to promote their medical practice.
When asked why he chose medical advertising and marketing, Vinnie Curto said "The need for doctors, in specialty areas, to promote themselves has been there for a long time, and we recognized that doctor's require specialized marketing tools for their business. We plan to fill that need, for those doctors who want an online presence and a way to attract new patients, without having to learn internet advertising and marketing skills."
Curto discussed how his company will help medical professionals, in all fields of practice, to add new patients and service regular patients at the same time. Outsourcing of medical marketing and advertising for physicians is the logical next step for doctors, who need to reach their market through the internet. We hope to become the marketing arm of their office, and will offer Research and Competition Analysis, Updates of Websites, Conversion Optimization, and assist office staff and doctors in different aspects of social media. These services are designed to bring more traffic to a doctor's website, broaden their patient base, and increase calls to their offices.
With the advent of the Affordable Care Act, more doctors are being encouraged to use the Internet, social media, and other virtual world communication to enhance their patent care. A recent study showed that 60% of public health departments in individual states, are actively using Twitter and other social media applications, as a way to release information instead of interacting with patients directly.
The CDC uses Twitter, Facebook, Text Messaging and YouTube, as a way to inform the public, regarding different types of health messages. They're using these mediums to disseminate healthy eating tips , prevention of obesity, and localized diseases, to name a few. With nearly 2 million followers on their social media accounts, the CDC is leading the way for doctors to have an online presence that benefits them and their patients.
Curto said he "recognized that specialized clinics for physiotherapy, chiropractors and cosmetic surgery need to broaden their patient base, and will include them in his specialized services." Ever aware of the need for discretion, especially in medical practices, all marketing and advertising will conform to state or federal guidelines.
Recently, a study showed that 60% of public health departments in individual states are actively using Twitter and other social media applications, as a way to release information as so that interacting with patients directly is not needed. The Mayo Clinic is leading the way in this effort, and encouraging doctors to follow their example.
About Local Lead Genie
Local Lead Genie, http://localleadgenie.com, a New Jersey based company, has been helping individuals and companies since 2004 to realize their marketing goals, and achieve more success through their websites, and their advertising opportunities. Local Lead Genie sees an opportunity for doctors to reach out and get new patients through video, mobile marketing and through numerous online applications.