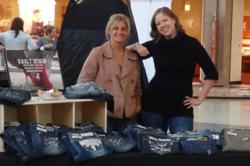 The "bottom line" - Vault Denim is personal shopping and home business at its best.
Chicago, IL (PRWEB) October 11, 2012
Vault Denim creates a strong presence at "Livebeautifully" on October 17th at the chic new Flirty Girl Fitness location in Chicago. With a focus on current denim trends, the needs of women and the economy, this emerging company offers women something distinctly different.
Women are experts at solving problems, multi-tasking and getting it all done in record time. When it comes to finding a new pair of jeans or starting an at home business, a perfect fit is hard to find. Some women are discovering the answer is simple. Two local moms, Sandy Hurtado and Nikki Spitzer, have found success in their jeans with Vault Denim.
At only two and a half years old, Vault Denim is exploding on the scene of designer denim shopping by providing a more personal experience. Established with the idea of offering high-end fashion for less, Vault Denim carries some of the top denim brands known in the fashion industry at up to 50% off retail price. Taking the torture out of shopping for jeans, home "trunk shows" allow women to browse through a selection of over 100 pairs of authentic jeans, try them on in the comfort of a home setting and take them home the same day. Additionally, trunk show hostesses can earn FREE jeans.
The leadership of Vault Denim sincerely wants to see all women feel great about themselves whether in an amazing pair of jeans or by achieving their own financial success. The company has a very honest motivation to be "behind" each and every woman and it shows in their exclusive brands and business opportunity. In addition to boasting several top brands of designer denim, Vault Denim's own exclusive brands are designed with women in mind and are made to flatter women of all shapes, sizes and ages. One brand, Ten Denim, is designed to make every woman feel like a "10". Other Vault Denim brands reflect the same sentiment, each with their own distinct styling. The business opportunity is as unique as their flattering jeans and fresh spin on shopping. Becoming a consultant is simple and inexpensive. The company has developed an innovative system that allows consultants to sell inventory without having to purchase it, effectively reducing the cost of running your own at home business.
Hurtado and Spitzer have found more than great jeans. They have found the promise of success in Vault Denim and each other. Both busy moms, with their own individual careers and community involvement, have also added the title of Vault Denim Independent Fashion Consultant to their resumes. Complimenting each other with different educational backgrounds and personalities, they combine to make a solid team. They have chosen to work together with a genuine mission of helping women look, feel and be their absolute best. To them, success is measured by empowering women through flattering jeans and enabling them to be their own boss.
Often seen at events throughout the Midwest, Hurtado and Spitzer have participated in fashion shows and upscale events including the Pretty.Flirty.Local event in Chicago last July. Take the opportunity to meet them as they showcase Vault Denim's new exclusive Emerson Edwards fall colors and prints at the posh "Livebeautifully" event on October 17, 2012 held at the new Flirty Girl Fitness location in Chicago's Lincoln Park. "Livebeautifully" is a national campaign celebrating the best in beauty, style and wellness. Purchase your tickets at PrettyCity.com.
Media is invited to attend and visit Vault Denim for a special "perk". Free media passes can be reserved by contacting Hurtado or Spitzer.