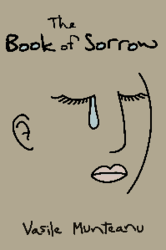 a beautiful meditation on a subject that has unending depths by a masterful poet.
Las Vegas, NV (PRWEB) October 09, 2012
Sadness is a universal emotion; every person feels it at different points in his or her life. However, there are many different types of sorrow — some positive, and some negative. Some sadness is overwhelmingly bleak, while another kind of sorrow can be classified as bittersweet and can be pleasant to remember.
Author Vasile Munteanu unflinchingly faces the deep emotions that are associated with sadness in his latest collection of poems, tapping into many different themes and emotions all rooted in the overarching theme of sorrow. In "Said and Unsaid," Munteanu mines the profundity of silence and the volumes it can speak. "Insomnia" speaks to the intensity of solitude in the middle of the night, and the feelings that sleeplessness can evoke. These and the other poems in the volume emphasize the mind's "need and desire" to overcome itself when faced with sorrow, be it negative or positive.
The Book of Sorrow is a beautiful meditation on a subject that has unending depths by a masterful poet. Author Vasile Munteanu earned his bachelor's and master's degree in English from Michigan's Oakland University, and he earned his Ph.D. in Philosophy, Interpretation and Culture from the State University of New York at Binghamton. A professor of philosophy and literature at the College of Southern Nevada in Las Vegas, Munteanu authored many books, including Godmaker, The Book of Aloneness, Chandala, The Unthought, The Book of Intentions, and The Book of Longing.
For additional information, please visit http://www.vmunteanu.net.
The Book of Sorrow
Vasile Munteanu
Dog Ear Publishing
ISBN: 978-1-4575-1342-8
132 pages
$40.00 US
Available at Ingram, Amazon.com, Barnes & Noble and fine bookstores everywhere.
About Dog Ear Publishing, LLC
Dog Ear Publishing offers completely customized self-publishing services for independent authors. We provide cost-effective, fast, and highly profitable services to publish and distribute independently published books. Our book publishing and distribution services reach worldwide. Dog Ear authors retain all rights and complete creative control throughout the entire self-publishing process. Self-publishing services are available globally at http://www.dogearpublishing.net
and from our offices in Indianapolis.
Dog Ear Publishing – self-publishing that actually makes sense.