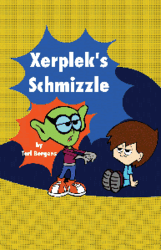 The author's rhymes make it even more fun to read the story aloud.
CARY, NC (PRWEB) October 10, 2012
When a noise awakens Matthew in the middle of the night, he can't quite believe his eyes – and ears. A spaceship with tiny blinking lights is stuck in his tree, and he hears quiet giggling. This new children's book explores the hilarious antics that ensue when a glasses-wearing alien named Xerplek from the planet Kloo crash lands in a young boy's backyard.
"Xerplek's Schmizzle" features Xerplek's progress as he tries to get out of the tree safely and find a map to Mars, where his family is stationed. Matthew helps his new friend, who promptly eats everything in the kitchen, including all the cookies and candy, and splatters the room in bright green goo while trying to make a drink known as schmizzle. All Xerplek wants to do is repair his spaceship and get back home, but somehow all he can do is make mistakes.
The author's colorful, cartoon-like drawings wonderfully illustrate the power of kindness and cooperation that can spring up between two such different youngsters united in a simple cause. The author's rhymes make it even more fun to read the story aloud.
This is the second book for author Teri Bergens, who also wrote and illustrated the children's book "Mud Troubles." Bergens, who graduated from California State University in Sacramento, worked in marketing and advertising before turning to writing and illustrating children's books full time. She and her husband have two sons.
For additional information, please visit http://www.TeriBergens.com.
Xerplek's Schmizzle
Teri Bergens
Dog Ear Publishing
ISBN: 978-1-4575-1226-1
44 pages
$10.99 US
Available at Ingram, Amazon.com, Barnes & Noble and fine bookstores everywhere.
About Dog Ear Publishing, LLC
Dog Ear Publishing offers completely customized self-publishing services for independent authors. We provide cost-effective, fast, and highly profitable services to publish and distribute independently published books. Our book publishing and distribution services reach worldwide. Dog Ear authors retain all rights and complete creative control throughout the entire self-publishing process. Self-publishing services are available globally at http://www.dogearpublishing.net
and from our offices in Indianapolis.
Dog Ear Publishing – self-publishing that actually makes sense.