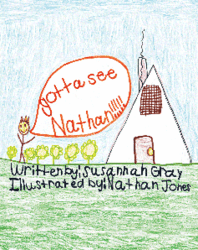 Nathan drew the illustrations for this charming children's book that shows the power of love.
Indianapolis, IN (PRWEB) October 16, 2012
It's not easy when a new baby arrives, especially if you're used to being the baby. This new children's book, inspired by actual events, tells what happens when the author's second son, Nathan, joins 2-year-old Zachariah. Despite some bumps along the way, Zachariah quickly becomes a big help in caring for the newest member of the family, whether at bath time or when he needs a new diaper.
"Gotta See Nathan!" highlights Zach's love for his new brother, reflecting his joy in waking up early and wanting to see and play with Nathan right away. The youngster's often-repeated phrase, "Gotta see Nathan," provided the idea for the book's title. Zach plays peek-a-boo with Nathan, brings him toys, talks to him sweetly and plays in the tub with him. Even when the day is over, Zach already anticipates the following day when he can see his little brother again. Nathan drew the illustrations for this charming children's book that shows the power of love.
Author Susannah Gray works as a training specialist for Child, Youth and School Services on the small military base in the Republic of the Marshall Islands where she lives. She hopes to spend more time writing in the future. Gray was born and raised in Alabama. Her son, Nathan, now 8, created the book's illustrations. She has finished a second book -- "Alligators Ccoming!" -- featuring drawings by Zachariah.
For additional information, please visit http://www.GottaSeeNathan.com.
Gotta See Nathan!
Susannah Gray
Dog Ear Publishing
ISBN: 978-1-4575-122-0
20 pages
$15.00 US
Available at Ingram, Amazon.com, Barnes & Noble and fine bookstores everywhere.
About Dog Ear Publishing, LLC
Dog Ear Publishing offers completely customized self-publishing services for independent authors. We provide cost-effective, fast, and highly profitable services to publish and distribute independently published books. Our book publishing and distribution services reach worldwide. Dog Ear authors retain all rights and complete creative control throughout the entire self-publishing process. Self-publishing services are available globally at http://www.dogearpublishing.net
and from our offices in Indianapolis.
Dog Ear Publishing – self-publishing that actually makes sense.