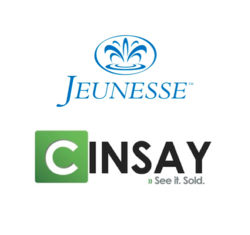 ... with Cinsay's phenomenal direct-to-consumer "J-World" platform, distributors around the world will be able to easily and effortlessly sample and sell more products via their own social media influences
Orlando, FL (PRWEB) October 02, 2012
Jeunesse Global, LLC the company which is listed as #82 on the Direct Sales Association Top 100 Network Marketing companies, has entered into an agreement with Cinsay whereby Cinsay's eCommerce technology will help drive sampling, training, tracking, sales and lead generation through the most popular social media sites including twitter, LinkedIn, Pinterest and Facebook.
The new initiative is accomplished through Cinsay's patented video commerce player or Smart Store™ technology. The technology is being tailored to meet the demands of Jeunesse Global's network marketing platform called "J-World", and is planned for release this November 2012. Jeunesse Global, formulates, sells and distributes anti-aging nutrition and stem cell skin care products developed by Dr. Vincent Guenpapa and cosmetic stem cell surgeon Dr. Nathan Newman. Its exclusive products are sold through independent distributors in 85 regions and territories around the world. http://www.jeunesseglobal.com/med_advisors.aspx
Christian Briggs, CEO and founder of Cinsay along with, Jeunesse Global's Chief Operations Officer and co-founder, Wendy Lewis, jointly announced the alliance. "From the start, the success of Jeunesse Global has come form marketing cutting-edge products directly to consumers around the world and now with Cinsay's phenomenal direct-to-consumer "J-World" platform, distributors around the world will be able to easily and effortlessly sample and sell more products via their own social media influence's casting a much larger online net and footprint than ever before with an even stronger and more targeted personal message. We are pleased to be the first in our industry to recognize and utilize its potential." said Lewis.
Briggs added, "Cinsay is the perfect technology partner for Jeunesse Global. We'll be providing all the necessary aspects for creating a successful network marketing business for their distributors across the globe and it moves traditional in-home meetings to the new virtual living room; Cinsay's Smart Store™ platform."
Adam Vincent Gilmer, President of 8020365, LLC, a leading business development consulting company and representative of Cinsay technology for the Direct Sales/Network Marketing vertices reported, "The relationship with Cinsay offers all Jeunesse Global Distributors a "First Mover Advantage" for social media marketing and monetization. This proven technology will drive more direct-to-consumer engagements increasing commissions, overrides and bottom-line profitability for Network Marketing and Direct Selling Companies. The "J-World" platform powered by Cinsay's technology is a "Game Changer" for network marketing companies, this translates to more sales revenue for Jeunesse Global world wide".
About Jeunesse Global
Jeunesse is not the same old story of skin care and supplements. We are not the same old network model. Jeunesse is a global business that helps people reach their full potential in youthful looks, in healthy living, in embracing life. Jeunesse combines breakthrough sciences in a product system that enhances youth by working at the cellular level. By focusing on the health, longevity, and renewal of cells, we help people enjoy vibrant, youthful results that last. Jeunesse delivers the rewards of youth in four innovative ways: Products. The Jeunesse Youth Enhancement System (Y.E.S.) isn't just about looking young. It's about feeling young for the long term. Even the sciences we employ are new and cutting edge. Our best-of-the-best formulas are innovative, and the youthful results are real. Learn more about our line of Personal Care and Nutrition products. People. Jeunesse shares an emotional reward no networking company can match. The culture of Jeunesse springs from the integrity and core values of our Founders. As a result, our global family of distributors experience rewarding relationships based on mutual respect, trust, and love. Plan. With one of the most lucrative and truly balanced compensation plans around, the Jeunesse Financial Rewards Plan is able to reward more people with more money. And with the plentiful incentives and built-in travel promotions that are our way of doing business, the Jeunesse culture is in itself a rewarding lifestyle. Platform. Jeunesse doesn't settle for traditional network marketing strategies. We embrace the technology generation with a cutting-edge platform distributors love.
About Cinsay
Cinsay has created a next generation social eCommerce, viewer interactive, video-based platform for any individual or size businesses. Cinsay's SaaS based technology enables everyone to sell products, services, capture donations, and generate leads all inside the patented Smart Store™. Additional services available to individuals' SOHO's and the business community, are Cinsay's complete turnkey business via exclusive on demand, made to order merchandise solution featuring hundreds of personal, brandable products like t-shirts, caps, mugs and iPhone covers available at http://www.cinsayondemand.com. Now anyone can be in business within minutes with no inventory whatsoever. Customers benefit from Cinsay's in-depth reporting tools and real-time statistical data. Cinsay's embeddable platform is compatible with web and mobile HTML5 devices and is highly scalable via its enterprise-level hosting and distribution network. Full video production is available through http://www.cinsayproductions.com. Cinsay aggregates and promotes merchant stores via its searchable consumer portal, http://www.MyCinsay.com. Forbes has named Cinsay as one of "America's Most Promising Companies" and by eTail Conferences as a "Rising Star" in innovation for 2012.
Media Contacts:
David Burrows
Cinsay. Inc.
972-616-6400 x6373
pr(at)cinsay(dot)com