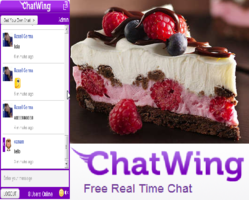 Memphis, TN (PRWEB) October 02, 2012
Food blogging is considered as one of the most dynamic blogging niches today because of uprising food trends and different approaches when it comes to cooking. In a single food blog, hundreds of instructional entries can be posted and visitors are often looking for food-related information. To help aspiring food bloggers create subscriber bases, the Chatwing Development Team has just launched a web chat box capable of enhanced global connectivity. This chat app has been introduced in other online sectors where communication is prioritized.
Aside from its simplicity, Chatwing's free chat box is brimming with helpful features like social sharing option, adaptable form factors, easy installation mechanism, and high customization rate. To utilize the power of social sharing option, Chatwing visitors are allowed to log in with their Facebook or Twitter accounts. This feature is considered a prime factor why other social media marketers have relied on the Chatwing chat app. Chatwing's form factors allow bloggers to use a chat app style that fits their blogs well. It is apparent that blogging platforms are different, especially if the blogger chooses a complex design template. By having adaptable form factors, the blogger can have wide range of choices. Additionally, the blogger can also modify the appearance of the Chatwing chatbox by a significant percentage.
Introducing the free shout box to online sectors posed moderate challenge for the Chatwing team. The same notion highly applies in the food blogging industry. This simply proves that food aficionados and food bloggers are really looking for ways on how to communicate in a simple scale. Chatwing's developers believe in the power of simple blog applications, and they are always working round the clock to improve their free chat app. In the coming months, Chatwing Development Team looks forward to more logging options to widen the application's accessibility.
The Chatwing Team has anticipated that more trends will come in the food blogging niche. Vigilance is always needed, in order to help bloggers gain the proper communication leverage that they need. In order to spread proper information, the Chatwing team maintains a Facebook page and a series of blogs. Through these informational mediums, people will be able to learn more about the sheer opportunity offered by the Chatwing chat app.
About Chatwing.com
Chatwing.com specializes in the new field of website chat. Over years, the Chatwing team has introduced live chat widget for hundreds and thousands of blogs. The Chatwing application bridges people from many parts of the world, creating global synergy through the Internet. The shout box can be installed in just seconds, and it can be used for varying purposes such as leisure and Internet marketing. It also allows a user to customize the size, color, and name of the widget. Chatwing is 100% free for everyone.