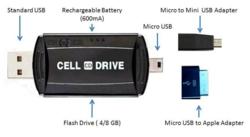 If you are going to carry around a flash drive, why not have it do other things like charge and sync !
Southlake, Texas (PRWEB) October 10, 2012
At the reduced price, The Cell Drive makes an extremely affordable "must have" cell phone accessory for business, travel, promotion and general mobile use. The "swiss army knife" nature of the Cell Drive, along with the compatibility with the majority of micro-usb charged devices as well as the iPhone/iPod makes it the perfect product for the multiple mobile device user.
The efficiently designed battery of the palm sized Cell Drive provides enough battery capacity to charge the mobile device up to 25% or approximately one hour of continuous talk time and easily carried in your pocket, purse or briefcase.
Sam Duyka, CEO of Cell Drive, states that he does welcome integrators and those who wish to license the patented technology to private label or enhance their own product offerings.