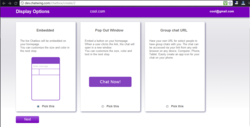 Tucson, AZ (PRWEB) October 03, 2012
Many food bloggers gain prominence and respect because of the instructional entries and videos that they are posting. According to many professionals, food-making instructions and references attract lots of attention because visitors highly rely on them. Additionally, the experience and joy of cooking resonates through the food blogs. Realizing the importance of this strong niche, the Chatwing Development Team has released a global chat box that is embeddable to any food blog or website. The Chatwing app operates under the freemium business model and entails high accessibility and customization rate.
Food bloggers who are keen on making food instructions can use the Chatwing chatbox to explain the instructions clearly. Additionally, the blogger can also post links regarding another food blog he owns. Chatwing chat app is known for its real-time communication experience. This means that visitors and other people don't have to wait for blog comments—they can just post their questions directly. This clearly heightens the important connection between the blogger and the blog visitor. Social media integration is also a part of the Chatwing free shout box. With this option, visitors can log in with their social media accounts. Visitors who are looking forward to joining social media communities can benefit a lot from this option. For those who want to remain anonymous, the Guest option is available. This option allows a visitor to use an avatar as substitute to a social media account.
The Chatwing team has also started introducing the free chat box to other important and dynamic blogging niches. There are hundreds and thousands of niches to improve, yet the Chatwing team remains diligent and observant. In the coming months, the Chatwing team ensures that new features and upgrades will come to the chat app.
To help bloggers gain an upper hand in the blogosphere, the Chatwing team is explaining the importance of blog applications and widgets. Usually, these explanations are conducted by admins from several Chatwing chatrooms. The Chatwing team also maintains a series of blogs to ensure that information is uninterrupted and reaching many people simultaneously.
About Chatwing.com
Chatwing.com specializes in the new field of website chat. Over years, the Chatwing team has introduced live chat widget for hundreds and thousands of blogs. The Chatwing application bridges people from many parts of the world, creating global synergy through the Internet. The shout box can be installed in just seconds, and it can be used for varying purposes such as leisure and Internet marketing. It also allows a user to customize the size, color, and name of the widget. Chatwing is 100% free for everyone.