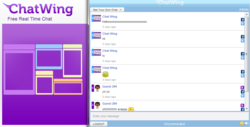 Cambridge, MA (PRWEB) October 03, 2012
Fans of the Wartune franchise—a new browser-based game—can now gather more allies and game information with Chatwing's latest chat box. The Chatwing chat app is equipped with new social features that can make global chatting efficient. Wartune is now considered one of the most famous browser-based games because of the integration of role-playing style and strategic base management. In-game rewards are also frequent in the game.
Wartune fans can rely on Chatwing's free chat box when it comes to communication. Chatwing developers have noted that devoted Wartune players have created blogs that discuss topics about the game. Topics such as item enchanting, boss dungeons, critical locations, and skill management have now become common. Wartune bloggers won't spend too much time in Chatwing's initialization. To utilize the Chatwing potential, the user just needs to log in with his social media account. For those who want to install the Chatwing app for their blogs, it can be accomplished easily.
Based on the comments of some bloggers, installation of the Chatwing chatbox takes only less than a minute. It all depends on the preferences of the user. One of the main characteristics of the Chatwing chat app is its high customization rate. Virtually any user can design the widget that he wants. In this way, the widget can fit the theme of his blog. Also, the user can add unlimited chat boxes and moderators, widening the accessibility rate of the Chatwing application.
It is evident that the Wartune niche is considered as important addition to Chatwing's strategic plan. Since Wartune generates thousands of users on a daily basis, the Chatwing free chatbox can really be handy in terms of communication. This simply proves that the usability rate of the Chatwing application goes beyond normal expectations, and it can also be worthy in other prominent online sectors.
About Chatwing.com
Chatwing.com specializes in the new field of website chat. Over years, the Chatwing team has introduced live chat widget for hundreds and thousands of blogs. The Chatwing application bridges people from many parts of the world, creating global synergy through the Internet. The shout box can be installed in just seconds, and it can be used for varying purposes such as leisure and Internet marketing. It also allows a user to customize the size, color, and name of the widget. Chatwing is 100% free for everyone.