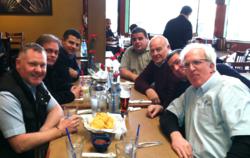 Alameda, CA (PRWEB) October 03, 2012
Gregg Abbott, Director of Sales for TRIC Tools, Inc. traveled to Stoneleigh Park, England to participate with TA Drilling at the 2012 No Dig Live. No Dig Live runs from October 2nd through October 4th and gives attendees a chance to see the latest technology used in new installation and rehabilitation of Underground Utility Pipelines. TA Drilling, Ltd., purveyor of top-shelf service and equipment to the underground utilities industry in the UK and Ireland, added TRIC Tools Inc. of California in 2012 to its diverse family of underground infrastructure solutions. This is No Dig Live's Eleventh Biennial Trenchless Technology Exposition.
TRIC invented and patented the first practical sewer lateral pipebursting system while simultaneously gaining national approval of HDPE pipe for its use, thus opening the market for trenchless home sewer replacement in America. TRIC has since added municipal cable-pulling systems to their arsenal, always employing their formula of modular portability, including pneumatic and steel-splitting heads designed to replace various pipe sizes and materials from 25mm to 300mm diameter. Both TA Drilling and TRIC are looking forward to a long and productive relationship.