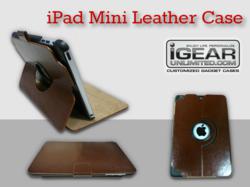 The iPad Mini is 100% iPad in a smaller, easier-to-carry package. The leather case is a perfect companion for the iPad Mini, offering stylish yet functional protection.
Chicago, IL (PRWEB) October 02, 2012
The YouTube video shows detailed measurements of the new iPad Mini, provides a quick comparison between the iPad Mini, iPad 3, and iPhone 5, and introduces a new leather case customers can pre-order today.
The iPad Mini case is made of 100% soft genuine brown leather. It comes with a magnetic clasp to keep the case closed. You can set up the iPad in three different angle for movie watching. A large circular cut-out on the back shows off the Apple logo. The iPad Mini case provides padded protection for your device and has a neat and classy look.
"The iPad Mini is awesome!" said Jimmy Sun, president of iGearUnlimited.com. "It's 100% iPad in a smaller package, with the familiar interface, apps, and functionality in a smaller, easier to carry package."
It's the first leather case announced by a major case maker with the following features:

Fine grade soft genuine leather
Full-body protection all around the iPad
Magnetic clasp holds the iPad securely
Suede-finish inside cover protects iPad's sreen
Large circular cut-out shows off Apple logo on back cover
The company is taking pre-orders for the iPad Mini leather case, and is expecting to start shipments around the middle of October.
For more information about other custom iPhone and iPad cases, visit http://www.iGearUnlimited.com.
About iGearUnlimited.com
iGearUnlimited.com is powered by Sunrise Digital, an Inc. 5000 company established in 1988 and employs the the most advanced equipment and technology, such as G7 certified HP Indigo and UV flatbed presses, and digital die-cutting, to create best-in-class products. A privately-owned enterprise, the company is based in Chicago and sells products worldwide.