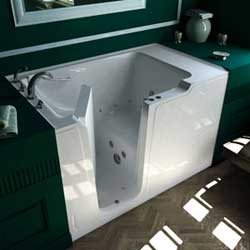 This new program can present substantial income for those wanting to work from home. No sales at all, simply refer us and if it becomes a sale you get paid within two weeks.
Denver, CO (PRWEB) October 02, 2012
Aging Safely Walk In Bathtubs, a company dedicated to enhancing safe bathing for mobility restricted individuals, is pleased to invite customers and others to participate in their new affiliate marketing program. The affiliate marketing program provides previous customers and other individuals with the opportunity to earn referral fees when they refer new customers who buy Aging Safely's walk in bathtubs, walk in showers and other handicap accessible bathroom fixtures.
The ledge free bathroom fixtures are ideal for seniors and handicap individuals who want to enjoy safe bathing. Aging Safely's walk in bathtubs include non-slip floors, easy open doors and other important safety features to make bathing easy and accessible. Some tubs also offer therapeutic hydrotherapy massage which can potentially help reduce inflammation from muscle and joint pain.
In addition, Aging Safely is integrating cutting edge technology so that Affiliates will be able to track referral fee's and campaign statistics online on a convenient dashboard. Publishers will have the ability to utilize banner ads to insert onto approved sites. Aging Safely stocks multiple product lines so it presents impressive residual income potential to publishers who cater to this demographic. One way Aging Safely continues to keep their prices the lowest is by utilizing this affiliate marketing program instead of purchasing expensive advertising.
Zach Wennstedt, CEO of Aging Safely Baths, stated, "Some affiliates cannot drive and are unable to work full-time. Seniors and other mobility restricted individuals can use their websites or other platforms to advertise Aging Safely's walk in bathtubs and other products to receive commissions. Furthermore, many potential customers that can benefit from hydrotherapy to reduce inflammation are home bound and these individuals often use their computers regularly. It's a perfect way to generate great income on a regular basis working from home."
Aging Safely's affiliate marketing program pays affiliates a minimum of $100 for each sale of walk in showers, ledge free tubs and other products that promote safe bathing. However, affiliates can make as much as 10% of the purchase price. Affiliate marketing revenues are determined by the profit of the product sold and whether the customer pays for installation or only delivery. Participants receive a check two weeks after Aging Safely delivers the item to the customer. In some situations, affiliates can obtain ongoing revenue when they refer a nursing home or other institution that purchases a large quantity of walk in tubs, hydrotherapy tubs that reduce inflammation, or other products that Aging Safely supplies.
Additionally, the affiliate marketing program can help make a handicap accessible tub more affordable. Participants can use their referral fees as a discount towards an Aging Safely product.
Individuals can join the program at no cost. Upon signing up, they can obtain an Aging Safely banner that can appear on their website if desired. Each affiliate is issued a unique marketing number, so customers generated by each advertisement can be tracked to the correct affiliate.
Contact Information:
Zach Wennstedt
1-888-779-BATH(2284)
info(at)agingsafelybaths(dot)com