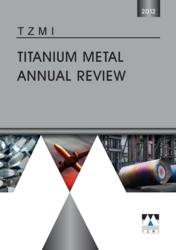 This study covers multiple stages of the sector including (in terms of contained titanium value) the;
• US$110 million titanium feedstocks sector,
• US$2.94 billion titanium sponge sector, and
• US$5.41 billion milled products sector
(PRWEB) October 03, 2012
TZ Minerals International (TZMI) is pleased to announce the release of the inaugural edition of the Titanium Metal Annual Review.
Due to the depth of information, growth of each sector and client feedback, TZMI has replaced the well known Mineral Sands Annual Review with a suite of four reports providing a more comprehensive analysis of the different sectors of the industry. The new reports are the Titanium Metal Annual Review, TiO2 Feedstock Annual Review, Zircon Annual Review and TiO2 Pigment Annual Review.
The Titanium Metal Annual Review 2012 provides a review of events and developments in the global titanium metal sector in 2011. This study covers multiple stages of the titanium metal sector including (in terms of contained titanium value);

The US$110 million titanium feedstocks sector,
The US$2.94 billion titanium sponge sector, and
The US$5.41 billion milled products sector
Titanium Metal Annual Review 2012 covers significant developments in the industry, changes to the supply and demand balance during the year, manufacture of titanium products plus an examination of end-use markets. Also included is a discussion of titanium metal production costs and an in depth examination of emerging titanium technologies.
To better understand the relationship between titanium feedstock producers and the titanium metal industry it is important to understand that the top 11 titanium feedstock producers cover approximately 75% of the mineral supply to the entire supply chain and roughly 6% of this titanium mineral is used in the titanium metal sector.
There are now seven countries that produce titanium sponge, which accounts for the vast majority of new titanium units to created titanium final products. China has the most titanium sponge producers with 20, but Russia is home to the world's largest titanium sponge producer.
Close to 90% of manufactured titanium sponge is used in the manufacture of titanium and titanium alloy products for four key end-markets: commercial aerospace, defence, industrial and a composite category including consumer and emerging markets. Titanium metal is synonymous with the commercial aerospace sector. While this is not the largest market for the metal, it is by far the most publicised. Titanium is a core construction material and is used in airframe applications and also in engines.
Titanium is used extensively in a wide range of industries, primarily due to its corrosion and chemical resistance across a wide range of aggressive applications. The main industries that use titanium include:

Chemical processing plants,
Power generation for cooling water applications,
Oil and gas for a variety of seawater and storage applications,
Marine uses, particularly for cooling water system using seawater,
Desalination for industrial and drinking water, and
The non-ferrous metallurgical sector.
While titanium metal offers many attractive attributes such as its high strength-to-weight ratio, high resistance to corrosion and bio-compatibility, the cost of production is extremely high and probably limits its more widespread use.
When examining the cost structure of the titanium metal industry, it is useful to focus on the production costs of TiCl4 and sponge as well as other key cost drivers and this is covered in more detail in the Titanium Metal Annual Review.
The Titanium Metal Annual Review is an essential resource for titanium metal information and data. This report is suitable for anyone wanting to understand this evolving segment and maintain an up to date perspective of all elements of the industry, including:

Titanium metal producers
End-consumers
Mineral sands industry participants
New or potential entrants to the industry
Financial industry (fund managers, hedge funds, investors and potential investors)
Orders for Titanium Metal Annual Review 2012 are now being taken. For more information please visit http://www.tzmi.com or call +61 8 9359 6000.
About TZMI
TZ Minerals International (TZMI) is a global, independent consulting and publishing company with offices in Australia, China, the US and Africa. The strength of TZMI's consulting services stems from extensive practical experience in the mineral sands, titanium dioxide and coatings industries and from a comprehensive database, which has been built up over many years.
TZMI has proven expertise gained from our consultants having many years of direct operating experience in the industry in chief executive, senior operational, analytical and marketing roles.
TZMI's publications and data services support the consulting activities and ensure up-to-date, high quality and comprehensive data, analysis and information across the mineral sands, zircon and TiO2 pigment industries.
TZMI provides operational and technical expert advice on many areas including:

Mergers and Acquisitions
Market Assessments and industry analysis
Due diligence
Pre-feasibility studies including preliminary capital and operating cost estimation
Competitive cost analysis and benchmarking
Technical reviews and audits
Resource assessments
Physical separation test work
Flowsheet development
Customised data analysis and reporting