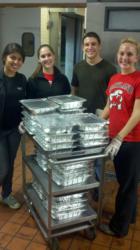 Food Recovery Network is on fire right now.
College Park, MD (PRWEB) October 04, 2012
Class is back in session on American college campuses and so is the Food Recovery Network (FRN), a student-run nonprofit that donates surplus food from campus dining halls to people in need of a meal. Coming off a big first year where they grew to four chapters and donated 50,000 meals, the student founders are continuing to pick up momentum.
FRN is now becoming a 501(c)(3) nonprofit in pursuit of national expansion. Last month, FRN elected a brand new national leadership team, mainly made up of students leading its four existing chapters at University of Maryland, College Park, Brown University, Pomona College, and University of California, Berkeley.
They are currently coaching students at about 15 colleges and universities through starting new food recovery programs, and have new chapters on the way at The George Washington University, University of Michigan, University of Texas, Austin, Providence College, and Rhode Island School of Design.
And while most of Food Recovery Network's attention has been on colleges, FRN is also partnering with local officials in Montgomery County, Maryland. After hearing about FRN's success, Montgomery County Councilmember Valerie Ervin is championing a push to replicate the FRN model in her county, which is home to over a million residents. On Tuesday, October 9, Ervin will introduce a resolution to create a Food Recovery Work Group, convening 20 top stakeholders in the county to implement a food recovery program.
"Food Recovery Network is on fire right now," said Founder and Executive Director Ben Simon, who is a 22-year old senior at the University of Maryland, College Park. "I think the reason why the program has been so well received – by organizational partners, by foundations, by students interested in starting chapters – is because our mission is such a no-brainer. Why throw away good food when you can donate it?"
Simon said his goal is to get three to five full time staff funded by May 2013. So far, Food Recovery Network has raised about $35,000 from pitch competitions and donations. It won the grand prizes in the Banking on Youth Competition, sponsored by Ashoka and the CBA, and the Kevin Bacon Do Good Challenge, sponsored by UMD. In November, Simon will be flown out to Miami to compete for $100,000 in another social entrepreneurship competition, the 2012 Continuity Forum.
In 2010, America wasted approximately 70 billion pounds of food, or 40% of the food grown domestically, according to the Environmental Protection Agency. At the same time, the Census estimates that 49 million Americans are food insecure. The Food Recovery Network estimates that 22 million pounds of edible, surplus food goes to waste each year on college campuses alone.
##
The Food Recovery Network unites students at colleges and universities across America to fight food waste and hunger by recovering surplus perishable food from their college campuses and surrounding communities that would otherwise go to waste and donating it to people in need. http://www.foodrecoverynetwork.org