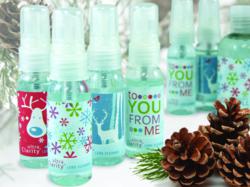 The Ultra Clarity Winter Lens Care Collection offers a bit of fun and joy for the season, and can help eyecare professionals compete for holiday attention and spending.
Valley View, OH (PRWEB) October 04, 2012
During the holidays, eyecare professionals are competing with the glam and glitz of gift-shopping for attention and sales. The Nanofilm Ultra Clarity™ Lens Care Winter Collection, with its fresh designs and affordable value, is a jolly idea for promotions that can boost end-of-year traffic and sales.
The Winter Collection includes four seasonally themed designs from snowflakes to a spunky little reindeer. The assortment consists of 1-ounce sprays, a 4-ounce easy-pour bottle, and a care kit in an elegant draw-string organza bag. Any of the items can put more merriment into to these five seasonal store events.
1. Lens care makes a festive bonus gift with year-end patient reminders. As part of your program to remind patients about eyecare insurance benefits that may expire at year end, offer Winter Collection lens care as a bonus gift for setting an appointment or making an eyewear purchase.
2. Lens care transforms gift certificates into gifts. Gift certificates don't make a particularly enticing holiday package. Instead, add a lens care kit and a designer eyeglass case to an attractive box and dress it up with ribbons and bows. The wrapped boxes also make an eye-catching window or in-store display.
3. Thinking-of-you gifts thank teachers, office mates, mail and newspaper carriers. Everyone has a list of people to remember with a holiday memento. The Winter Collection is a useful gift that's already wrapped in the spirit of the season.
4. Give your patients a token of appreciation. A 1-ounce spray can show a little extra thoughtfulness for patients during December. Better yet, an email or postcard blast can invite all patients to stop by for the gift, maybe as part of a holiday open house.
5. Create instant holiday décor. On counters or dispensing tables, in store windows or as a stand-alone display near the door, the Winter Collection can help capture the imagination of customers and passersby.
The Ultra Clarity Winter Collection has several component choices:

One-ounce lens care sprays are available in four designs: To You, From Me; Ryan the Reindeer; Winter Wonderland; and Snowflake. Each design is available with two lines of imprint. (30-count case; MSRP $1.99)
The Snowflake 4oz. lens care bottle features a new easy-pour spout for refilling spray bottles. (15-count case; MSRP $3.99)
The Winter White Kit includes a choice of any 1-ounce spray design, custom imprinted, plus the 4-ounce Snowflake easy-pour bottle in a white organza drawstring bag. (15-count case; MSRP $5.99)
Ultra Clarity™ lens care is highest rated lens for effectiveness and safety on all eyeglass and sunglass lenses and coatings, including anti reflective coatings. It's the formula that's been the choice of millions worldwide for more than a decade.
"The Ultra Clarity Winter Lens Care Collection offers a bit of fun and joy for the season, and can help eyecare professionals compete for holiday attention and spending," says Jodi Groh, Nanofilm Director of Marketing.
Inquiries about the product can be directed to Nanofilm's Customer Service Team at 216-447-1199 or info(at)nanofilmtechnology(dot)com.
About Nanofilm ([http://www.nanofilmproducts.com): Nanofilm, founded in 1985, is a global optical leader in lens care and coatings. Millions of people around the world use Nanofilm products, including Ultra Clarity™, Clarity Clean It™, Clarity Defog It™, EcoClens™ and other lens care products, as well as nanotechnology-enabled coatings.