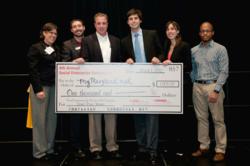 Silver Spring, MD (PRWEB) October 04, 2012
Points of Light recently announced the 20 finalists in its inaugural Civic Accelerator program, which aims to support innovative, early-stage non-profits that put people at the center of social change. Among the finalists is MyMaryland.ne t, a new non-profit tech start-up that aims to connect Maryland residents with their elected officials.
The MyMaryland.net team, led by 22-year-old Founder Ben Simon, will now fly to Atlanta October 11 and 12 to present its vision and pitch for a chance to win $10,000 and mentorship. The 20 finalists were narrowed down from a competitive field of 170 applicants, and 10 winners will walk home with the prize money and entry into the accelerator program.
"The Civic Accelerator is really the perfect match for MyMaryland," said Simon. "We are so young as an organization, and our vision is so transformational. It's not easy finding opportunities like this, especially ones specifically advancing civic engagement."
MyMaryland.net aims to bridge the distance between citizens and the elected officials representing them. Citizens, who are verified as registered voters, can vote on upcoming bills, petition their officials, and discuss campaign finance information. In turn, elected officials benefit from a real-time read on their constituents.
According to Simon, MyMaryland.net would be the first website to connect voters and their elected officials in a 24/7 online town hall – something he believes has transformational potential to reform representative democracy. By providing a new way for residents to contact their elected officials, Simon hopes MyMaryland will increase civic participation, transparency, and accountability.
The site has already raised $50,000 so far, and is expecting to make its private launch this month, inviting around 50 elected officials and other stakeholders to try the site before it goes public. They plan to release their beta site by the end of 2012.
The MyMaryland.net team has already met with 55 Maryland elected officials, and received a very positive response, according to Simon. But the Maryland launch is just a pilot. If successful, the team wants to bring this new tool to voters all across America.
MyMaryland.net is a new non-partisan, nonprofit website that connects Maryland residents with their elected officials to improve participation, transparency, and responsiveness in representative democracy.