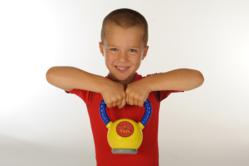 Fitness through fun and games
Seattle, Washington (PRWEB) October 10, 2012
WOD Toys, LLC, a Seattle-based toy company, is sponsoring a unique costume contest this Halloween. Contestants are encouraged to dress up in fitness or health-related attire and use of WOD Toys in the photos is encouraged but not required. The contest is open to persons residing in the United States who are at least 18 years of age or older, and only U.S. residents may enter excluding Hawaii and Alaska.
WOD Toys is a different type of toy company that deeply cares about the fitness and the future health of our children. Their entire product line takes its inspiration from popular fitness equipment. For instance, the WOD Toys product line includes toys like the Barbell Mini, the Kettle Kid, and the Medball Mini. These toys are not real exercise equipment. Instead, they are well-constructed toys safe for children from the age of two years old and up.
Ernest Haekel Ebio, CEO of WOD Toys believes that by introducing fitness equipment to kids at a very early age, we instill in them a love of exercising and a desire for a healthy lifestyle. With the obesity rate in children now spiraling out of control, Mr. Ebio felt that this was an ingenious and fun method of helping our kids develop a love of fitness at a very early age.
Recently, Ernest Haekel Ebio had this to say, "We continue our quest to help children learn about and love working out, and eating healthy. Our contest encourages the entrants to include one of our toys in their entry photo. This is our way of getting the word out there to the public about WOD Toys so that parents can direct their children down the road to a wholesome lifestyle at an early age."
Though the contest is open to kids of all ages, entries must be submitted by someone who is 18 years old or older and living in the United States. Entries may be submitted starting October 1, 2012 at 9 a.m. PST. Deadline for submission is Oct 25th and entry into the contest is free. WOD Toys encourages you to not only enter but ask friends to vote for your costume.
Prizes will be awarded as follows: Grand Prize is a $300 WOD Toys gift certificate, 2nd Prize is a $150 WOD Toys gift certificate, and 3rd Prize is a $50 WOD Toys gift certificate. Voting begins on October 26th and ends October 31st. Winners will be announced the week following Halloween on the WOD Toys website.
WOD Toys inventor, Ernest Haekel Ebio, believes in childhood fitness and has plans to expand his toy line to include many other toys that resemble popular gym equipment. His efforts are already helping thousands of children to form a strong foundation at an early age in health and fitness that will hopefully endure throughout their lifetime. Investing in the future health of our children is a win-win situation for everyone.
Because of the continuing childhood obesity epidemic, sales of products that promise health, fitness and weight loss have seen a sharp upswing in recent years. WOD Toys have been featured on CNN Money, and Komo 4 news. WOD Toys now has distribution channels all over the US and in Australia.
About WOD Toys
WOD Toys gives parents an excellent way to introduce exercise and fitness to their children at very young ages. As kids handle the toys and play with them, they subconsciously develop a positive association between fitness and fun. The Seattle-based toy company desires to bring a new consciousness to consumers in wholesome living. The company has long range plans to expand its toy line to include many other pieces of popular gym equipment. Investors are encouraged to contact company owner, Ernest Haekel Ebio for information about investing in this lucrative business venture.