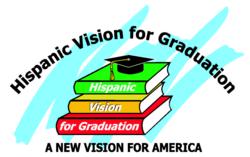 Miami, FL (PRWEB) October 02, 2012
Major League Baseball Players Join Hispanic Vision for Graduation in the Fight for Quality Education as We Celebrate Hispanic Heritage Month
With the first 2012 Presidential Campaign debate just around the corner, we have a national education crisis in this nation we need to address. More than half of the 12.1 million Hispanic children in this country's K-12 public school system will never graduate high school due to circumstances beyond their control. This is the civil rights cause of our times. A majority of those students that do not graduate will be destined to a life of destitute and despair. Unfortunately, many of them will end up on welfare or in jail. This will result in an economic and social cost that America simply cannot afford in these times of global competitiveness.
National Champions for Education, Major League Baseball Player, Noel Arguelles with the Kansas City Royals and UM graduate Rony Rodriguez, with the Can-Am League's Quebec Captains, join Hispanic Vision for Graduation and step up to the plate on behalf of every Hispanic child's right to access quality education in America.
"If you want to be great, stay in school and graduate", says Noel Arguelles.
"Believe in your dreams, stay in school and they will come true", says Rony Rodriguez.
Inspiration from National Champions for Education like Noel Arguelles and Rony Rodriguez, together with the guidance and motivation from teachers and Hispanic parents across this nation will help Hispanic children in America stay in school and graduate.
The time to take action is now. Join us at Hispanic Vision for Graduation.
About Hispanic Vision for Graduation:
Improving the educational outcomes of Hispanic students in America by empowering Hispanic teachers to engage Hispanic parents with a vision for graduation for their children. Visit us on twitter @hispanicv4g.
For Further Information Contact: Arlen Castillo
at: arlen(at)hispanicvisionforgraduation(dot)org/ 305.206.0800