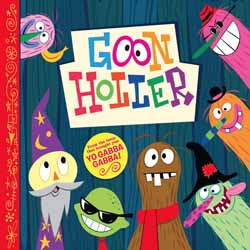 a delightful, fun-filled journey . . .
San Clemente, California (PRWEB) October 04, 2012
The creators of hit children's shows such as Yo Gabba Gabba! (Nickelodeon) and The Aquabats! Super Show! (The Hub) are revealing their newest achievement: The Goon Holler Guidebook (Sourced Media Books, $12.99, hardcover), a fully illustrated book of stories, songs, and activities.
Once upon a time, a Bigfoot named Tooba wandered into a magical land called Goon Holler. There, he found a wizard named Uncle Wiznat, a girl named Dosie Doh, an alien named Xöranj, and the goons of Goon Holler—the goofiest mischief-makers of all time. In The Goon Holler Guidebook, children will love reading about the adventures of Tooba and Dosie while trying out Dizzy Bizzy's recipes, exploring the Goon Mines, learning to play the ukulele, reading Goon Cartoon comic strips, and much more.
The creative team boldly decided to develop the children's property independently. "Opportunities for development and distribution continue to increase as children's media moves into the digital marketplace," says Jon Berrett, executive producer of Goon Holler. "We published the Guidebook to introduce children to the Goon Holler world, and we'll be looking at a variety of options before taking the next step in brand development."
Early reviewers, such as Francine Brokaw at Los Angeles Family Magazine, are applauding The Goon Holler Guidebook as "a delightful, fun-filled journey to a magical place with wacky characters and plenty of things to do and learn." The guidebook is available October 2, 2012, on Amazon and in bookstores nationwide.
For more information about the Goon Holler team, please visit http://www.goonhollerbook.com or http://www.sourcedmediabooks.com.
About the Team
Parker Jacobs is the four-time Emmy-nominated art director for the hit TV show, Yo Gabba Gabba! and was a senior design director for Paul Frank. Christian Jacobs is the co-creator and director of Yo Gabba Gabba! and The Aquabats! Super Show! Jon Berrett is the executive producer of Yo Gabba Gabba! and The Aquabats! Super Show! They have won numerous accolades for their work, including the Fred Rogers Innovation Award, Emmy nominations, the BAFTA award, and back-to-back TCA Awards. They look forward to producing other high-quality, exciting multimedia properties.
If you'd like more information about The Goon Holler Guidebook, or to schedule an interview with Parker Jacobs and the rest of the Goon Holler team, please contact Kathy Osmond at kathy.osmond (at) sourcedmediabooks (dot) com.