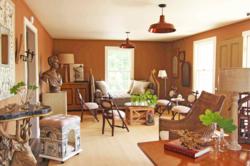 White Webb Finds showcases an artful blend of traditional and modern design in a celebration of country style.
Hillsdale, NY (PRWEB) October 03, 2012
Matthew White and Frank Webb, owners of the New York City interior design firm, White Webb, have opened a shop in the historic town of Hillsdale, NY. One year ago, in the center of this charming hamlet, Matthew White completed his restoration of a nineteenth century building (originally an old country store), in which he opened the Hillsdale General Store, a lifestyle store carrying practical things for country life. Now, on the second floor of the building, White Webb has joined the endeavor by launching White Webb Finds, a shop carrying antiques, one-of-a-kind locally made pieces designed by Mr. White and Mr. Webb, and pieces from their ongoing collections of furnishings. In addition to selling this merchandise, the shop will serve as a base for their interior design work in upstate New York, Connecticut and the Berkshires.
In the 1990's, Mr. White owned an antiques shop in Pasadena California, which ultimately launched his interior design career. Now, many years later, he is once again immersed in the world of antiques. For Mr. Webb, the shop represents an opportunity for expanded product design and the ability to bring the team's creative expression to a broader audience.
White Webb Finds offers objects both charming and obscure. Antique prints rest on a mid 19th century drop leaf table while across the room a striking custom daybed, created from recycled barn wood, keeps company with pedigreed 19th century chairs. Old painted furniture, fine English boxes and newly made furnishings and lighting flesh out the shop.
The two designers are known for their diverse projects, ranging from modern Manhattan apartments to the Architectural Digest Green Room for the Academy Awards. White Webb Finds, however, allows for a more relaxed aesthetic. Located in the heart of the Hudson valley, White Webb Finds creates a destination for those who love to blend rural charm with a highly evolved design perspective.
For more information, please contact Matthew White or Frank Webb at info(at)whitewebb(dot)com.
About White Webb
White Webb, LLC is an interior design firm with offices in New York City. The firm's principals, Matthew White and Frank Webb, bring a sense of history to every interior design project, but balance it with an appreciation for modern life. This blending of old and new is the hallmark of the White Webb sensibility. Whether working with major art and antiques in architecturally significant houses or creating a fantasy setting in the gallery world, White Webb approaches all projects with an eye toward the past and the future, and a touch of wit.