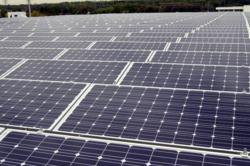 "This is a flagship project and sends a strong message about the importance of solar energy to Ontario communities." Les Lyster, CEO, Eclipsall.
Toronto, ON (PRWEB) October 02, 2012
Veridian Connections, a leading electricity utility in Ontario, "flipped the switch" last Friday on a 140kW solar panel array on their Ajax, ON headquarters building.Solera Sustainable Energies, an Ajax, ON company, developed the project. Eclipsall manufactured the NRG 60 solar panels for the project at their manufacturing facility in Toronto.
The solar array, consisting of more than 400 photovoltaic panels and occupying roughly 45,000 square feet of the building's garage roof, will generate approximately 160,000 kWh of clean, carbon-free electricity annually – an amount equivalent to that consumed by about 20 typical households.
"Solera is pleased to have developed this project for Veridian; we applaud their forward thinking and positive action", said Leonard Allen, CEO of Solera.
Solera and Eclipsall were joined in the project by three tier one participants, KACO, Burman Fellows Group and Unistrut, all respected and well known for their solar energy experience and stellar work throughout North America and beyond.
"This is a flagship project and sends a strong message about the importance of solar energy to Ontario communities. We were pleased to work alongside Solera and all the team members who developed, designed and built the Veridian solar array," said Les Lyster, CEO of Eclipsall.
Veridian Connections Inc. delivers electricity to more than 115,000 Ontario customers in the Cities of Pickering and Belleville, the Towns of Ajax, Port Hope and Gravenhurst, and the communities of Uxbridge, Bowmanville, Newcastle, Orono, Port Perry, Beaverton, Sunderland and Cannington.
About Solera Sustainable Energies Company
Solera has been developing and implementing solar energy solutions since 1991. Solera has more than 3 MW of projects installed and currently generating electricity on the Ontario power grid. The company has more than 40 MW of projects under development.
About Eclipsall
Eclipsall Energy Group is a leading Canadian manufacturer of high-performance PV modules. In 2011, Eclipsall Energy Group expanded its solar offering by adding a project development and financing division, Eclipsall Development. Eclipsall Energy operates in a state-of-the-art manufacturing facility located in Toronto, Canada. The 165,000 sq. ft. facility has a current capacity of 70 MW with planned expansion to 250 MW. Eclipsall Energy currently offers both mono and polycrystalline PV modules in both 60- and 72-cell configurations. All of Eclipsall's PV modules are UL certified and meet the domestic content requirements for the Ontario FIT Program. The Eclipsall Energy Group has projects under development in North America, South America, and Africa.