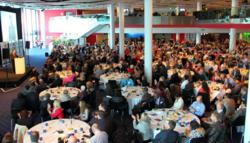 "Let's make London as famous for Jesus as it has been for the Olympics, Paralympics and the Queen's Diamond Jubilee!"
London, United Kingdom (PRWEB UK) 4 October 2012
Over 1,000 Christian leaders from across the UK (representing an estimated 2 million Christians) attended a special Leader's Lunch, prior to The National Day of Prayer & Worship at Wembley Stadium. During the lunch, Rev. Stephen Gaukroger presented a powerful call for leaders and their congregations to get involved in CROSSING LONDON – Mission 2013.
This new initiative, in partnership with the Billy Graham Evangelistic Association and Samaritan's Purse, is building on the work of More Than Gold and the enormous wave of confidence and unity that swept across London during the Olympic and Paralympic Games.
Looking ahead to 2013, Rev. Stephen Gaukroger said, "Let's make London as famous for Jesus as it has been for the Olympics, Paralympics and the Queen's Diamond Jubilee!"
Gaukroger explained the four-fold strategy for mobilising all churches to share the good news across London and beyond. He stressed the importance of 'Encouraging Leaders' to mobilise their people to be missional; 'Equipping Christians' to share their faith confidently in a world that often crushes Christian life and witness; 'Engaging Communities' where there's brokenness and pain with practical expressions of 'love in action' and 'Encountering Jesus' at a major gathering in 2013.
"In October 2013, we will be gathering together with thousands of people to present the good news of Jesus Christ in our capital city and call them to receive his love and find him for themselves", said Gaukroger.
He called on leaders to be humble and set aside personal egos, agendas and denominational differences for the sake of the Gospel. He challenged leaders to be holistic and follow the example of the Good Samaritan by proclaiming the good news and binding up the broken hearted. And he encouraged people to be confident, not in individual strengths and abilities, but in God who is alive and working actively among us through this exciting initiative.
At The National Day of Prayer & Worship, Gaukroger asked people to pray for leaders as they encourage their churches to be involved in CROSSING LONDON – Mission 2013; to pray for the Boroughs and Home Counties around the M25 that the Spirit of God will touch those places and release leaders who will release others to cross their streets and communities with the life-changing message of the gospel.
Speaking after the event, Rev. Stephen Gaukroger said, "the temptation is to do nothing out of a sense of hopelessness, but CROSSING LONDON – Mission 2013 provides us all with an opportunity to do something out of a sense of faithfulness".
The Leader's Lunch prior to the National Day of Prayer & Worship at Wembley Stadium on Saturday 29th September 2012, was:

Booked out in 19 days with 1300 leaders expected – at one point there were 120 on the waiting list.
Attended by people from every part of the UK including Jersey and the Isle of Man. It's estimated
that people travelled a collective 100,000 + miles to be at the event. There were 19 Bishops (not all
Church of England), including the Bishop of Iraq, three Cannons, three captains, one apostle, 16
Doctors, a Lady and a Lord.
According to estimates on the day, the leaders at the lunch represented connections to over 2 million Christians in the UK.