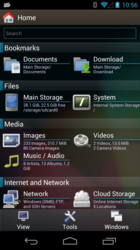 This is evident from the moment you start the typical Android file management app: you're plunged directly into a listing of the root directory of the SD card
Newport Beach, CA (PRWEB) October 03, 2012
FX--the first desktop-class file manager for Android devices--delivers cloud access, networking, media management and root-access capabilities with the power and ease-of-use of a desktop OS file manager.
Prior to the introduction of FX, the user experience with file management on Android devices was little different than what users experienced with Windows 3.1. "This is evident from the moment you start the typical Android file management app: you're plunged directly into a listing of the root directory of the SD card," said Tod Liebeck, Chief Software Architect of NextApp, Inc. "That's not any different than the way Windows 3.1 did it twenty years ago, dumping you into the root of your C: drive and leaving you to hunt for your documents, photos, downloads, and media files. Modern smartphones and tablets are light-years beyond the capability we had with Windows 3.1, and as far as we were concerned, the file manager should reflect these advances."
From the moment the user starts the application, it's clear that FX pulls Android file management into the twenty-first century. The FX "Home Screen" presents a customizable list of the places and folders the user deems most important, allowing immediate, intuitive access to files. Cloud storage, network shares, and physical storage locations (e.g. the SD card) are directly accessible.
Users can find files using the search bar at the top of the home screen, and the indexed search system returns results instantly. They can even browse media without concern for the hierarchy of the underlying filesystem: a user can view photos taken with the device's camera, or they can browse music by album, despite the fact that each of the songs may be in different folders all over the device.
"You use the file manager on your PC or Mac dozens of times in a day," said Liebeck. "More often than not those interactions take only a few seconds at a time. FX was laid out with the requirement that it be intuitive to learn and quick and efficient to use." FX features several innovations that address ease of learning and operation:

Menus work much like the familiar pull-down menus on a desktop computer. They've been adapted for a touch-based user interface, with the "menu bar" at the bottom of the screen. Each option is roughly square and finger/thumb sized.
Selecting a file or folder is accomplished by swiping a finger horizontally across the item. This simple gesture eliminates confusing checkboxes or the need to always enter a special "multiple-select mode" when the user wants to do one task with many files or folders.
Every screen has a "Windows" menu in the same location, so users can quickly switch between different locations when doing complex operations.
Move and copy operations are performed using a clipboard. Just select a few files, tap the File menu, then "Cut" or "Copy". Navigate to a destination, tap on the clipboard, tap "Paste".
[ Pricing ]
FX is available on the Google Play Store in several flavors. The main FX application is free to use and contains no advertisements. A $2.99 "Plus" add-on provides networking, cloud, and media features. A $1.99 "Root Access" module is intended for developers and knowledgeable Android enthusiasts.
[ Features ]
FX provides a complete feature set including access to popular cloud services and file sharing technologies:
Network Support: FTP (including secure FTP), SMB (Windows Networking), SSH FTP. Support for browsing the network for Windows servers and finding SSH/FTP network hosts via Zeroconf.
Cloud support: Dropbox, Google Drive, Microsoft SkyDrive, Box, and SugarSync. Download and convert files from Google Drive into various formats.
Audio/Music Browsing: Browse tracks by artist, album, playlist, or browse all tracks simultaneously. Browse podcasts, ringtones, notification sounds. Create, manage, and rearrange playlists.
Archive Support: Create and extract Zip, Tar, Gzip, and BZip2 files. Extract RAR files.
Viewers: Text Editor, Text Viewer, Binary (Hex) Viewer, Image Viewer.
Image/Video Browsing: Browse camera files, all image/video files, or view image files by folder.
Streaming Video: Stream video from all cloud and network locations to video players. Supported video formats are determined by third-party players installed on the device.
[ About NextApp ]
Founded in 2001, NextApp has developed both mobile- and web-based software solutions. NextApp products include the "SystemPanel" and "WebSharing" Android apps as well as the open-source "Echo" web framework and "EchoStudio" commercial IDE for Eclipse.
For more information, visit http://android.nextapp.com or contact info(at)nextapp(dot)com for a media kit.