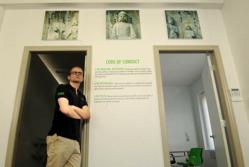 Certain seeds work best for medicinal purposes.
(PRWEB) October 04, 2012
Despite the growing controversy over whether or not patients should use medical marijuana or not to ease symptoms, dispensaries are opening their doors throughout the United States. There are some, though, that are taking precautions when doing so. The best way to be considerate to those who are not comfortable with the act of dispensing medical marijuana is to provide as much up front information as possible and to answer all questions coming down the line.
There are studies indicating medical marijuana is an effective treatment for several diagnosed ailments. Chronic pain, for one, is treated through use of a dispensary where stable strains are provided to those in medical need. Doctors are treating medical marijuana as an herbal treatment for depression, bi-polar disease, pain management, multiple sclerosis, migraines, and more. Not to mention nausea and vomiting from Chemo therapy treatments. Patients must have a prescription before medical marijuana is dispensed to them, though.
Marijuana grows from seeds, but certain seeds work best for medicinal purposes. Medical marijuana has been grown from seed throughout the world for hundreds of years. While medical marijuana seeds are becoming a mainstream staple for pain management across the United States, only certain states allow dispensaries.
The following states have medical marijuana laws in place:
Alaska
Arizona
California
Colorado
Delaware
Hawaii
Maine
Maryland (Washington DC)
Michigan
Montana
Nevada
New Jersey
New Mexico
Oregon
Rhode Island
Vermont
Washington
There are specific seed strains developed for medical marijuana purposes, and it is best for residents to check with their specific state to obtain more information about the seeds and how they are grown for that region. There are two different primary types of seeds grown and they are Sativa and Indica. There are higher levels of CBD's found naturally grown in Indica compared to Sativa. It is best to seek out Indica seeds for medical marijuana purposes, or a hybrid of this particular strain. These strains offer better pain relief and a more balanced profile.
There are a number of medical marijuana seeds available and some are more popular than others:
Autoflowering Seeds: once thought of as a gimmick, but has proven itself a viable seed for medical use.
Feminized Marijuana Seeds: this is the most widely purchased and commonly used medical marijuana seed.
Pick and Mix Marijuana Seeds: these seeds work best for those who are unsure which type of medical marijuana plant to use.
Regular Marijuana Seeds is where it all started, but finding these seeds in dispensaries can be difficult.
Seed banks are available online, but buying marijuana seeds for medical purposes could lead to many stressful situations patients may not wish to undergo without help. This is another reason why medical marijuana dispensaries are an important addition to the herbal treatment field. They handle everything from the medical marijuana seeds to the medical marijuana plants so all the patient needs to worry about is filling their prescription and getting some relief. While medical marijuana will not provide a cure, the treatments do offer safe relief for sufferers.